We are entering a new market regime unlike any in the past half-century: We see another year of positive equity returns coupled with a down year for bonds. But we have dialled back our risk-taking given the wide range of potential outcomes in 2022.
Investment themes
01. Living with inflation

We expect inflation to be persistent and settle above pre-Covid levels. We expect central banks to kick off rate hikes but remain more tolerant of price pressures, keeping real interest rates historically low and supportive of risk assets. Implication: We prefer equities over fixed income and remain overweight inflation-linked bonds.
02. Cutting through confusion

A unique mix of events – the restart, new virus strains, supply-driven inflation and new central bank frameworks – could cause markets and policymakers to misread inflation. We keep the big picture in mind but acknowledge risks – to the upside and downside - around our core view. Implication: We trim risk amid an unusually wide range of outcomes.
03. Navigating net zero

The journey for the world to achieve net-zero emissions by 2050 is happening now, and is part of the inflation story. We believe a smooth transition is the least inflationary outcome, yet even this still amounts to a supply shock playing out over decades. Implication: We favour developed market (DM) equities over emerging markets (EM).
Learn more about our 2022 Outlook:
A new market regime
We see 2022 heralding a new regime by delivering global stock gains and bond losses for a second year – what would be a first since data started in 1977. This unusual outcome is the next phase of our new nominal theme that is still playing out: Central banks and bond yields have been slower to respond to higher inflation in the powerful restart than in the past. That should keep real, or inflation-adjusted, bond yields historically low and support stocks.
The big change in 2022: Central banks will be withdrawing some monetary support as the restart does not need stimulus. We see more moderate equities returns as a result. We expect the Fed to kick off rate hikes but remain more tolerant of inflation. The Fed has achieved its inflation target, so its interpretation of its employment mandate will determine the timing and pace of higher rates. The European Central Bank, facing a weaker inflation outlook, is likely to stay easier on policy.
We had flagged inflation - now we're Living with inflation.
A restart like none other
We've never had an economic restart like this. Add repeated, outsized data surprises to the mix – both to the upside and the downside – and confusion is natural among policymakers and markets adapting to a new reality.
At the same time, central banks are implementing new frameworks that change how they react to inflation. The risks arising from new Covid-19 strains only add to the confusion. We cut through numerous possibilities to ask: What would it take for us not to be in this new market regime?
What could go wrong?
We see two ways our new market regime view could be wrong. First, central banks might react differently. They could – in the face of persistent inflation pressures, perhaps tied to new Covid-19 strains, revert to their old response to inflation.
Central banks could also be forced to be more aggressive if inflation expectations become de-anchored. We would be faced with inflation significantly above target, rising interest rates and falling growth: a classic stagflation scenario that is bad for both bonds and equities. Second, we could be wrong about growth prospects.
The chart shows how different our and the market's view of future Fed rate hikes is from how the Fed might have reacted historically to the current mix of slack and inflation. In the past, we believe the Fed would have been pushing up rates in 2021 - again helping confirm this is a new regime.
It's different this time
U.S. CPI inflation, federal funds rate and estimates, 1990-2025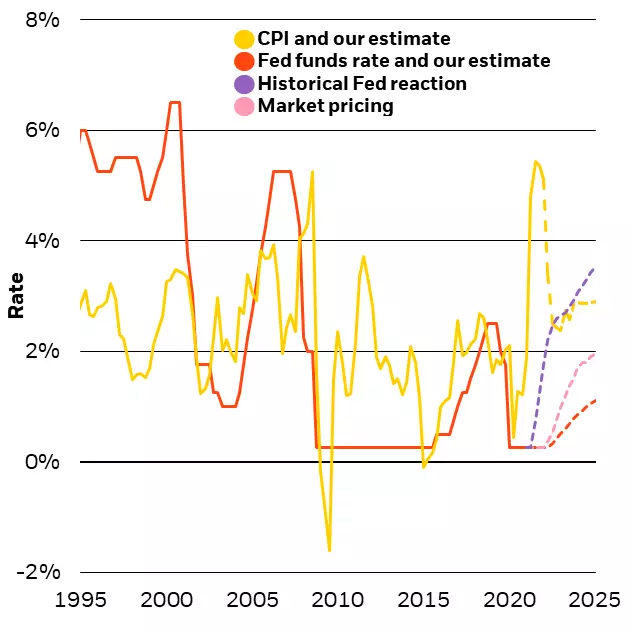 Forward-looking estimates may not come to pass. Source: BlackRock Investment Institute, Federal Reserve Board, U.S. Bureau of Labor Statistics, Bloomberg, with data from Haver Analytics, December 2021. Notes: The chart shows the U.S. nominal federal funds rate (orange line), year on year headline CPI inflation (yellow) and some projected paths of the nominal federal funds rate. The U.S. CPI shown from 2022 - 2025 are our estimate embedded in our Capital Market Assumptions. The dotted red line shows our own projection of the federal funds rate. The purple line shows the path that would have been implied by a simple monetary policy rule linking the choice of policy rate to the rate of inflation and the level of the output gap. The pink line shows the current market-implied path.
Staying invested
How to thrive in this new market regime? We prefer equities in the inflationary backdrop of the strong restart. We favour developed market stocks as we dial down risk slightly amid rising risks to our base case.
We are underweight DM government bonds – we see yields gradually heading higher but staying historically low. We prefer inflation-linked bonds, partly as portfolio diversifiers. On a strategic horizon, we like private markets for their diversification and return potential.
Learn more
Investment Expertise, Simply Delivered.

We want to help you achieve your investment goals and believe that the best way to do that is to offer a selection of actively managed multi-asset portfolios.

Building our portfolios with iShares ETFs means that investors can gain the potential benefits of asset allocation with underlying investments that closely follow an index.

Our model portfolios are constructed to optimally balance long–term returns, risks, and costs as per the objective of the four risk profiles. As a result, each portfolio has a unique objective, offering exposures to various asset classes, industry sectors, style factors, currencies, and geographies.

Reviews and Rebalancing

Our model portfolios are constructed and supported by a global team of investment strategists and monitored by BlackRock's sophisticated risk-management engine, Aladdin – the same technology used by some of the most sophisticated investors and institutions around the world.

The portfolio asset allocations are reviewed regularly and rebalanced where appropriate, as per the objective of each model. This is to ensure that the portfolios remain optimally balanced for risk, return, and cost.

*As of June 30, 2021, the firm managed approximately USD$9.5 trillion in assets on behalf of investors worldwide.