We share our perspectives on the investment landscape for 2022 as the world returns to economic normality while stimulus is being reined back and inflation persists.
Stimulus wind-down as inflation persists1
The inflation challenge varies across economies. For example, the consumer price inflation has remained low in China even though producer price inflation has been rising. Central banks in Europe and Japan still see the recent pick-up in inflation as transitory, while inflation seems to be more of a challenge in the US. Overall, headline inflation around the world is likely to come off the highs of 2021, but the undercurrent of firmer inflation could continue.
However, given the strong recovery momentum and some supply-side and labour market distortions, we believe core inflation could remain above the Federal Reserve's (Fed) target of 2% for much of 2022. This could pressure the Fed to more seriously consider raising interest rates before the end of 2022.
G4 central bank key policy rates3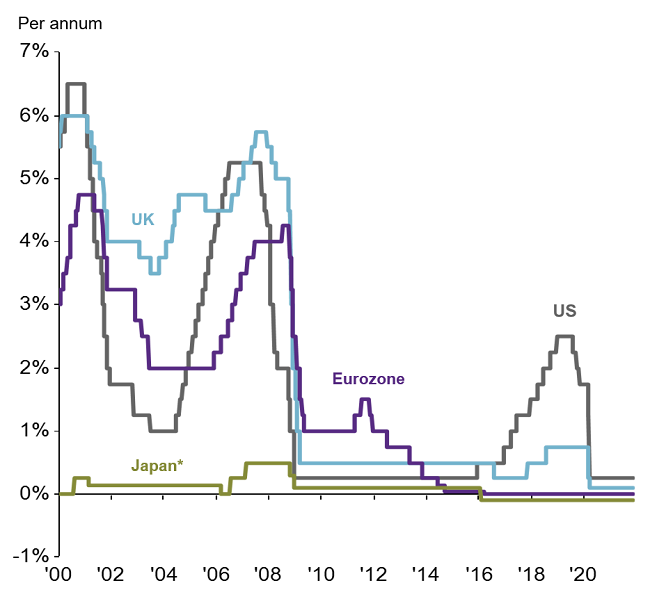 3. Source: J.P. Morgan Asset Management, FactSet. Data reflect most recently available as of 29.11.2021. G4 are the Bank of England, the Bank of Japan (BoJ), the European Central Bank and the US Federal Reserve. *The BoJ has adopted a three-tier system in which a negative interest rate of -0.1% will be applied to the policy rate balance of the aggregate amount of all financial institutions that hold current accounts at the BoJ. Past performance is not a reliable indicator of current and future results.
With inflation in the Eurozone and Japan still subdued, interest rates in these economies could stay low for an extended period of time as illustrated in the chart3. This means that such investors, depending on their investment objectives and risk appetite, would be looking for income opportunities2 in other parts of the world, including Asia and emerging markets.
Assets in the spotlight2
Since the global economy is still in the early (for Asia and select emerging markets) and mid (for the US and Europe) parts of the economic cycle, assets such as equities and corporate credit, on a risk-adjusted basis, remain in the spotlight within an overall porfolio. For investors seeking a steady income stream, depending on their investment objectives and risk appetite, high-dividend generating equities, along with higher-yielding fixed income, could present opportunities.



On equities

. Although global earnings growth are likely to slow in 2022 from an elevated pace, the level of absolute earnings could continue to trend higher in response to the ongoing economic expansion and revenue growth, which contributes a large share of overall earnings growth.



On fixed income.

Central bank policy normalisation among some developed markets could continue to move government bond yields higher. As such, short-duration4 and high-yield allocations5 could help manage duration risk while generating income in a recovering economy. Global high-yield corporate debt5 and select emerging market fixed income would fit into these criteria.
Emphasis shifts from the West to the East1
The impulse of global growth is likely to shift from developed economies to Asia and select emerging markets. Rising vaccination rates across Asia could allow for a more sustained domestic recovery as governments adapt their strategies to live with global public health crisis and further open up their economies and borders.
China was first among the major economies to make a recovery in 2020, but a combination of policy normalisation, regulatory changes, a slowdown in the real estate market and power disruptions slowed momentum in 2H 2021. We believe China's growth rate could start to stabilise in 1H 2022 with modest fiscal and monetary stimulus. Domestic demand and services could replace exports in delivering growth for China in 2022. Moreover, there are sectors such as decarbonisation and import substitutions that can enjoy policy tailwinds.
Conclusion
As inflation persists and governments and businesses gradually migrate tactics from coping with the public health crisis to living with it, stimulus is being reined back.
As the world is still in the early- to mid-stage of the economic cycle, we currently believe assets such as global equities and corporate credit remain optimal2.
Geographically, the emphasis could shift gradually from developed markets such as the US and Europe towards China and the rest of Asia.
Provided for information only based on market conditions as of date of publication, not to be construed as investment recommendation or advice. Forecasts, projections and other forward looking statements are based upon current beliefs and expectations, may or may not come to pass. They are for illustrative purposes only and serve as an indication of what may occur. Given the inherent uncertainties and risks associated with forecast, projections or other forward statements, actual events, results or performance may differ materially from those reflected or contemplated.
Diversification does not guarantee investment return and does not eliminate the risk of loss.
AU
1. Source: "The Year Ahead 2022", J.P. Morgan Asset Management, 30.11.2021.
2. For illustrative purposes only based on current market conditions, subject to change from time to time. Not all investments are suitable for all investors. Exact allocation of portfolio depends on each individual's circumstance and market conditions.
4. Duration is a measure of the sensitivity of the price (the value of the principal) of a fixed income investment to a change in interest rates and is expressed as number of years.
5. High-yield credit refers to corporate bonds which are given ratings below investment grade and are deemed to have a higher risk of default. Yield is not guaranteed. Positive yield does not imply positive return.
AU disclaimer
The information contained in this material is general in nature and has been prepared without taking into account your personal objectives, financial situation or needs. It is provided for information purposes only and should not be construed as an offer, research or personal financial advice. We recommend seeking independent advice before making any financial decisions.
J.P. Morgan Asset Management is the brand for the asset management business of JPMorgan Chase & Co. and its affiliates worldwide. This material is issued by JPMorgan Asset Management (Australia) Limited (ABN 55143832080) (AFSL 376919), which is regulated by the Australian Securities and Investments Commission.
Learn more
J.P. Morgan Asset Management is committed to understanding our clients' investment objectives and helping them build stronger portfolios.

Sharing our expertise

Supported by deep resources across regions and sectors, our global team of investment professionals take a research-driven approach to uncover opportunities and risks to help investors build stronger portfolios.

• 5,000+ annual on-site company visits (1)

Empowering better decisions

Our global team of market strategists takes the complexity out of markets, helping investors interpret key information and make the right investment decisions.

• Approx. 30 market strategists across the globe (1)

Building stronger portfolios

Our investment capabilities span a huge range of asset classes and regions. This enables us to offer a suite of solutions that can help investors diversify (2) their portfolios and achieve their individual investment goals in a variety of ways.

• Approx. 550 investment strategies (1)

Tapping into proven success

With nearly 150 years of investment experience, we have accumulated invaluable insights into what drives markets and how to empower investors to meet evolving needs — across asset classes, regions and market cycles.

• Approx. 150 years of investment experience (1)

Planning for the future you want to see

We take a forward-looking investment approach to deliver long-term sustainable financial return in a fast-changing world.

• A+ in the 2020 United Nations Principles for Responsible Investment (PRI) Assessment (3)

(1) Source: J.P. Morgan Asset Management. Data as of 31.3.2021. (2) Diversification does not guarantee investment returns and does not eliminate the risk of loss. (3) Source: J.P. Morgan Asset Management. Data as of July 2020. We report annually and are audited.