When WA Premier Mark McGowan recently stated that testing returning Australian citizens (and indeed tennis players) for COVID-19 before they boarded a plane bound for Australia was a "no brainer", this scribe wondered whether our politicians had been using their brains as the worldwide pandemic unfolded and accelerated.
We remain bullish for risk markets (particularly in Australia). However, our enthusiasm is tempered and constantly challenged by the workings of the National Cabinet and the management of state-determined borders.
Australia is embarking on years of solid economic growth, but its trajectory will be determined by the development of logical economic, public, and social policy. Therefore, the closure of state borders whilst international borders remain open to returning Australian citizens (many of whom are dual citizens), challenges logic and slows the recovery of the Australian economy.
Australia, like many parts of the western world, appears to be increasingly governed by partisan politicians who smother common sense by their constant focus on creating political advantage. They have an unrelenting desire to be re-elected and to maintain power. In doing so they show limited ability to think and manage laterally.
To explain the lack of logic ("brains"), I will draw upon some personal experiences to set the framework for this week's The View. The Australian economy remains lopsided with losers excessively confronted by poor policy and with winners unfairly benefiting from the same poor policies.
In August last year, I had planned a holiday to Cairns and realized – as border closures between QLD and NSW were threatened – that I should commence my travel to Cairns from Brisbane and not Sydney. Luckily, I had arranged to work from the Gold Coast for a few weeks prior to the holiday so all was fine – I surmised.
On arrival and check-in at Brisbane airport, despite immense police presence, there was no questioning or pre-vetting of myself as a traveller to Cairns. That seemed strange but explainable by my embarkation on an intra-state trip. However, on arrival at Cairns, I was questioned as to where I had been for 2 weeks prior. There was no warning in Brisbane that an intra-state QLD flight would require vetting on arrival, and that I ran the risk of being immediately deported back to NSW following a stint in a detention hotel in Cairns. I was not detained but I believe some people were, and that should never have occurred if there was a national processing policy for internal movement of Australians around the country – a "no brainer" so to speak.
More recently, a pre-booked and pre-paid visit to Hobart had to be cancelled as borders suddenly shut as COVID-19 seeped out of a Sydney hotel. Like the plans of millions of Australians both for Christmas and the summer school holidays (see below), my plans turned into chaos. Even today border restrictions remain and stifle economic activity in some parts of the economy. The local travel industry is challenged on many fronts – none more so than the lack of certainty for both consumer and business travel that entails traversing state borders.
"Border closures imposed by some premiers have cost tourism businesses nearly $7bn in just five weeks during what is usually the industry's busiest trading period, sparking renewed appeals for the states to open up … and stay open. Between Christmas Eve and the end of January, Australians are expected to spend $6.8bn less than the normal monthly average of $13.9bn, after Sydney's northern beaches and Greater Brisbane were placed into lockdown, state borders were slammed shut and families cancelled their summer holiday plans in droves. The tourism industry is consulting with the Morrison government on a limited extension of JobKeeper, while the hospitality sector is in talks with Treasury about ongoing financial assistance for accommodation and food services businesses once the $90bn pandemic wage subsidy scheme ends on March 28."
- The Australian
Understand that the costs and losses felt by some parts of the Australian economy will be borne by the Commonwealth - many of these costs caused by State Premiers playing political agendas. Cause, effect, and cost are not connected by a single governing body. Australia's Constitution created over 120 years ago, when horse-drawn transportation dominated, is now exposed as inadequate for a national health emergency.
Thus, the revelation, some nine months into a worldwide pandemic, that returning Australians were not required to be tested for COVID-19 before they boarded their planes, presents as a clear example of failure by political leaders. The National Cabinet failed to create logical rules or regulations to check an obvious risk for the benefit of the overwhelming majority of Australians.
There are various ways that COVID-19, in all its forms, can enter Australia. The primary one at present is through returning travellers, international tennis players and their entourages. Each week over 100 people enter Australia with the virus and the current policy (hope) is that we can quarantine these people in highly populated cities without a leakage of the virus. Is that poor policy based on faint hope?
Today, vaccines are being rolled out across the world. Over the next 3 months, there will be evidence that proves, disproves, or challenges the claims of efficacy of these vaccines. Therefore, Australia is uniquely positioned to wait for the evidence and make decisions based on factual outcomes. Given this unique position, it seems logical that our borders should be tightened further, with the 40,000 Australians still overseas both encouraged and financially supported to wait out the next 90 days for the benefit of all 25 million Australians.
In passing, we note that for the education sector (that provides services to foreign students), it is time to adjust their semesters for 2021. The reality of the virus is balanced by the hope that vaccine outcomes will be clearer in the second half of this year. Bringing foreign students into Australia over the next 60 days is simply too dangerous to the welfare of the broader Australian population and economy.
Understanding the winners and losers
Readers will have noted the recent strong profit announcements by Australia's major retailers, both discretionary and non-discretionary. The table below captures the various retail sectors and shows (for instance) that the service-based retail sector (cafes and restaurants) is in distress. Meanwhile, the non-discretionary food sector is exhibiting growth of twice the rate of national income growth. More households are eating at home and buying recreational goods via online mechanisms. In other words, people are buying more expensive food items and goods which make time at home more comfortable, items such as fancy coffee machines, bread-makers, etc and often buying these items online.
Some discretionary items that are not conducive to online offerings (such as shoes) and general department store offerings are exhibiting negative year on year sales.
Note that when looking at the table, the monthly figures are greatly affected by the return from shutdown of the Victorian economy. Therefore the "Month on Month" numbers are less significant than the "Year on Year" numbers.
Another retail sector worth reviewing is the new car market shown by the table below. The monthly sales numbers are presented and show the following:
A.
Total monthly sales are higher than a year ago.
B.
SUV sales have grown dramatically as households adjust to holiday travel that is locally focused; and
C.
Small business investment in the Light Commercial category has certainly benefited from the tax write off rule.

The next chart gives us an understanding of the liquidity created from Government initiatives and support for the household sector. At the beginning of the COVID-19 crisis (March 2020) there was an expectation of a liquidity or funding crunch for Australian banks, like what happened during the GFC. Therefore, the RBA created a Term Funding Facility (TFF) of circa $200 billion that could be drawn by the banks to replace wholesale funding if it were withdrawn by foreign creditors.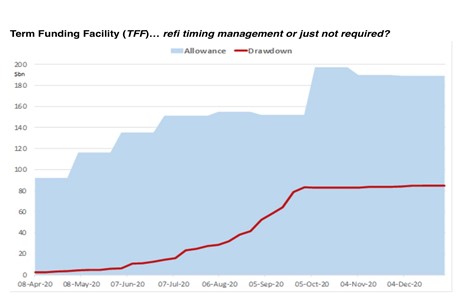 What transpired is that wholesale funding has been substantially replaced by a flood of retail deposits from our household sector, with virtually no drawdown of TFF until the Victorian outbreak occurred. More recently, as household confidence returned and cash payments by government (including super withdrawals) peaked, there has been a mild drawdown. We suspect that throughout 2021 there will be a further call on the TFF by banks as households continue to spend and investors redirect their investments from cash to higher-yielding investments outside the banking system.
In any case, it worth remembering that the cost to the banks of this funding is negligible with no penalty for drawing it. The Australian financial system is flush with liquidity and this will drive the price of yielding assets higher over 2021.
Further positive news for bank valuations is the improving trends for the repayment of deferred loans. As of June, the ratio of these loans exceeded 5% of bank loan books, but APRA has reported that they are now well below 2.5% and improving. These positions are manageable under current Bank capital ratios and there is the potential backstop of a buy out (QE) by the RBA should it be needed – which is very unlikely.

The recovery of bank profits and therefore their valuations was checked by the pandemic, but then buoyed by Government assistance packages to borrowers (above). A sector that seems likely to blossom in the coming years is the housing sector, and therefore the mortgage market will recover as the population growth rate returns once immigration reopens.
The chart below shows the current imbalance of demand for homes (population growth) to supply (dwelling completions). We predict that this will adjust (supply up) through 2020/21/22 allowing a stabilization of the housing and rental markets. However, it will not hold dwelling prices down unless the RBA and APRA act to control cheap credit flowing to the mortgage market. Many commentators are forecasting that residential property prices will continue to inflate despite evidence of affordability issues.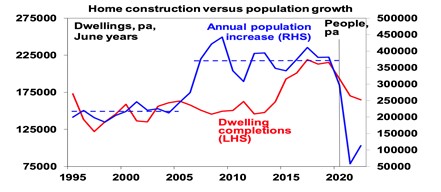 The above analysis suggests a period of solid growth for Australia, supported by the maintenance of large fiscal deficits, very low cash rates and the peak in unemployment. Overall, the Australian equity market seems positioned to capture this growth potential after a sustained period of underperformance against international peers (captured in the next graph).
The Australian market underperformed leading into the internet bubble of 2000. Over recent years, highlighted by the expansion of prices on the Nasdaq, a similar observation is made. We believe that the Australian market is primed for a period of out-performance of international markets.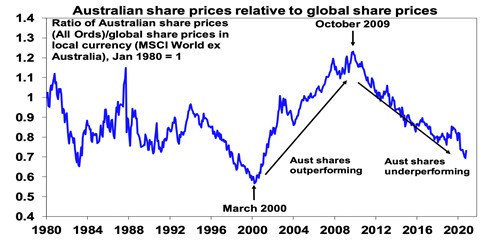 International picture supports Australia
Our confidence with the outlook for the Australian economy and our equity market is bolstered by the continuance of supportive economic policies across the world.
For instance, news wires reported the outputs of central banks prior to Christmas as follows:
"Major central banks also reassured markets about their willingness to offer a backstop should any short-term obstacles to the recovery begin to emerge. The US Federal Reserve committed to maintaining the pace of its asset purchase programs, while the European Central Bank increased its asset purchase program. China's central bank implied a fair balance between slowing credit growth without tightening prematurely."
Meanwhile in Australia, the RBA was relatively upbeat in its forecasts. It also confirmed its intention to hold cash rates down for a sustained period or until inflation sustainably returned. As reported by news wires, the RBA stated:
In the RBA's central scenario, it will not be until the end of 2021 that the level of GDP reaches the level attained at the end of 2019. In the central scenario, GDP is expected to grow by around 5% in 2021 and 4% over 2022. The extended period of high unemployment and excess capacity is expected to result in subdued increases in wages and prices over coming years. In the September quarter, the Wage Price Index increased by just 0.1%, to be 1.4% higher over the year. In underlying terms, inflation is forecast to be 1.0% in 2021 and 1.5% in 2022. The Board has noted that it will not increase the cash rate until inflation sits sustainably within the 2-3% target range. For this to occur, wage growth will have to be materially higher than it is at present.
Positive news in the US…
Janet Yellen, the Treasury secretary nominee, and chair of the Federal Reserve for four years, reintroduced herself in Senate confirmation hearings with a clear statement of intent. Two key passages concerned fiscal policy and the US dollar. On fiscal policy she was about as expansionist as she could have been:
"The world has changed. In a very low interest-rate environment like we're in, what we're seeing is that even though the amount of debt relative to the economy has gone up, the interest burden hasn't… Right now, with interest rates at historic lows, the smartest thing we can do is act big."
And on the US dollar, she emphasised non-intervention:
"The value of the U.S. dollar and other currencies should be determined by markets. Markets adjust to reflect variations in economic performance and generally facilitate adjustments in the global economy."
This suggests that the US Treasury would happily allow the US currency to weaken, even though Yellen said that this was not an objective. If that does happen, then there is a strong consensus that the USD will weaken against the Chinese yuan, which will likely reduce US-Sino trade tensions.
Janet Yellen made an assertive case that the greatest long-term threat to the US economy was not the federal budget deficit but doing too little to help workers. "Without further action, we risk a longer, more painful recession now and long-term scarring of the economy later," Yellen said.
These positions strengthen the expectation that the Biden administration will do whatever it can to stimulate the US economy via extraordinary fiscal (and monetary) support, and both positions are generally supportive of strong cyclical recovery and global growth.
Learn more
Clime invests with a quality bias and a strong valuation discipline. Our approach seeks to deliver strong risk-adjusted returns by investing in a portfolio of high-quality Australian companies that are attractively priced, while assuming a lower level of total risk.

In developing our investment solutions, Clime considers multiple asset classes including Australian equities, global equities, fixed income, property, hybrid securities, debt and cash to focus on the best ideas and opportunities for our clients.