As we have written previously, we have moved from 2020 the "Year of the Pandemic Recession" to 2021 the "Year of Global Reflation and Recovery".
There will be hiccups along the way with scares associated with the pandemic. A lift in reported inflation is likely leading to a rise in long-dated bond yields. Central banks will remain active supporting fiscal policies focussed on stimulating growth and therefore ensuring that broad economic recovery across the world remains intact.
What will this mean for commodity prices, and for commodity-based equities, which constitute around 25% of the ASX 200 Index (basic materials 21%, energy 4%)? This edition of The View is hopefully useful for investors reviewing their portfolios and in discussion with their advisers, and to stimulate an ¬¬awareness of sectoral biases in portfolios.
To begin we note the dramatic effects of the pandemic lockdown on Australia's economic data and below that, the sharp decline and predicted bounce-back of the large global economies. Recently, the OECD has upgraded its forecasts for growth across the world.
GDP Growth Forecasts Upgraded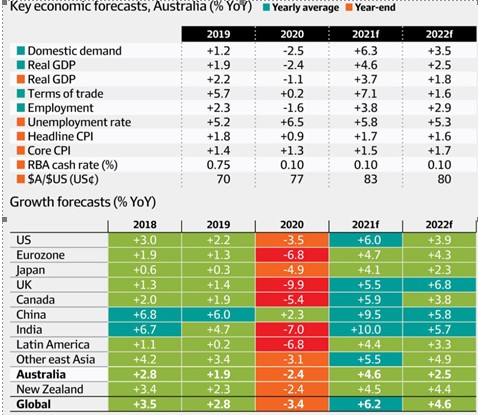 Australia's real GDP (after inflation) for calendar 2021 is forecast to be 4.6%, which is significantly higher than long term trend growth of around 3.0%-3.5% and represents a sharp increase from the 3.3% growth forecast that the OECD expected for Australia just a couple of months ago.
Also notable from the above is the forecast that Australia's Terms of Trade (the ratio of our export prices relative to our imports) will rise sharply as global demand for our commodity exports rises. This is important to note because it provides a tailwind for the Australian dollar. The OECD also forecasts that inflation in Australia will remain below the RBA target range of 2%-3% supporting the RBA statements that the cash rate will remain at an extraordinarily low 0.1% throughout the forecast period.
As for broader GDP growth forecasts (bottom half of above table), the OECD predicts a rebound in global growth (from -3.4% in 2020 to +6.2% in 2021), and the massive growth forecast for the US (+6.0%), the UK (+5.5%), China (+9.5%) and India (+10.0%).
Signs pointing to recovery
Economists are always looking for signals that can assist in making long term predictions, and a useful chart is reproduced below. It shows that Japanese machine tool orders have risen sharply since mid-2020, and this serves as an indicator that the outlook for global manufacturing is rapidly improving. Indeed, Japan's machine tool orders join Germany's manufacturing PMI, Chinese exports, and Korean exports in sending an upbeat signal about global manufacturing.
The chart also shows the close correlation with developed market corporate earnings which historically lag the global manufacturing series by around 6 months. The observations of recovery and the forecasts of growth support the rise in industrial stocks on global markets. From this point the highly cyclical industrial sector is expected to outperform this year as the pandemic eases, allowing developed economies to normalize.
Japanese Machine Tool Orders Foreshadows Manufacturing Recovery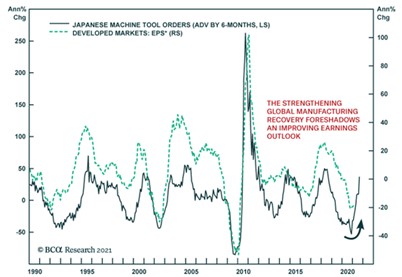 The above data point to a period of very strong growth in the global economy, and it follows that demand for Australian commodity exports will likewise be strong. Thus, the question arises: Are we heading into a new multi-year commodity supercycle?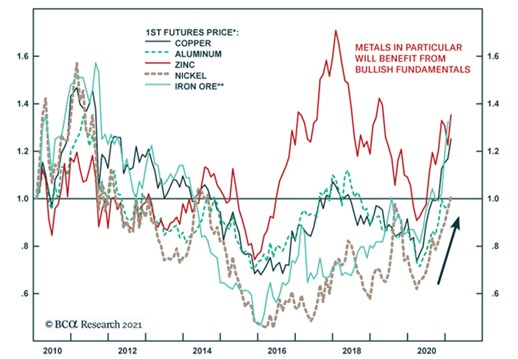 Source: BCA Research. All prices rebased to Jan 2010=1 (LondonMetal Exchange)
The above chart shows the strong bounce in a range of industrial metal prices since mid-2020. Yet these price increases pre-date some of the most recent upgrades to anticipated growth. At the top of the list is the massive stimulus package introduced by the new Biden Administration and which has been passed by Congress (along party lines).
The $1.9 trillion American Rescue Plan is President Biden's first major victory – and is projected to boost the US economy to its fastest annual growth in 36 years. The legislation, which follows trillions of dollars in federal aid last year and arriving amidst rising vaccination rates, has prompted analysts to increase their average forecast for 2021 US economic growth from 4.8% last month up to 6.0%. If that is achieved, it would be the US economy's fastest growth since 1984. In fact, there are signs that level could be exceeded. However, we must remember that this forecast growth is much lower than the US government deficit that is funding the growth. The US Government is spending $1.00 to generate about 30 cents of growth.
Nevertheless, President Biden's pandemic aid bill adds to considerable tailwinds that have already produced a faster-than-expected recovery from last year's collapse in economic activity. The package includes $1,400 stimulus cheques for most Americans (it cuts out for those earning more than $80k a year), extends enhanced jobless benefits through September, and provides billions to help schools reopen and accelerate vaccine production and distribution. It also includes provisions aimed at supporting low-income families, including child tax credits, rental assistance and additional funding for food stamps.
This is a huge program: to put into an Australian context, US$1.9 trillion is equivalent to 150% of the entire Australian annual GDP. It will have a global impact and its effects will be felt for years to come. And stimulus is not over; President Biden will be hoping to introduce another bill later this year aimed at infrastructure spend – "Building Back Better" – and that could add trillions more.
Huge rises in commodity prices since mid-2020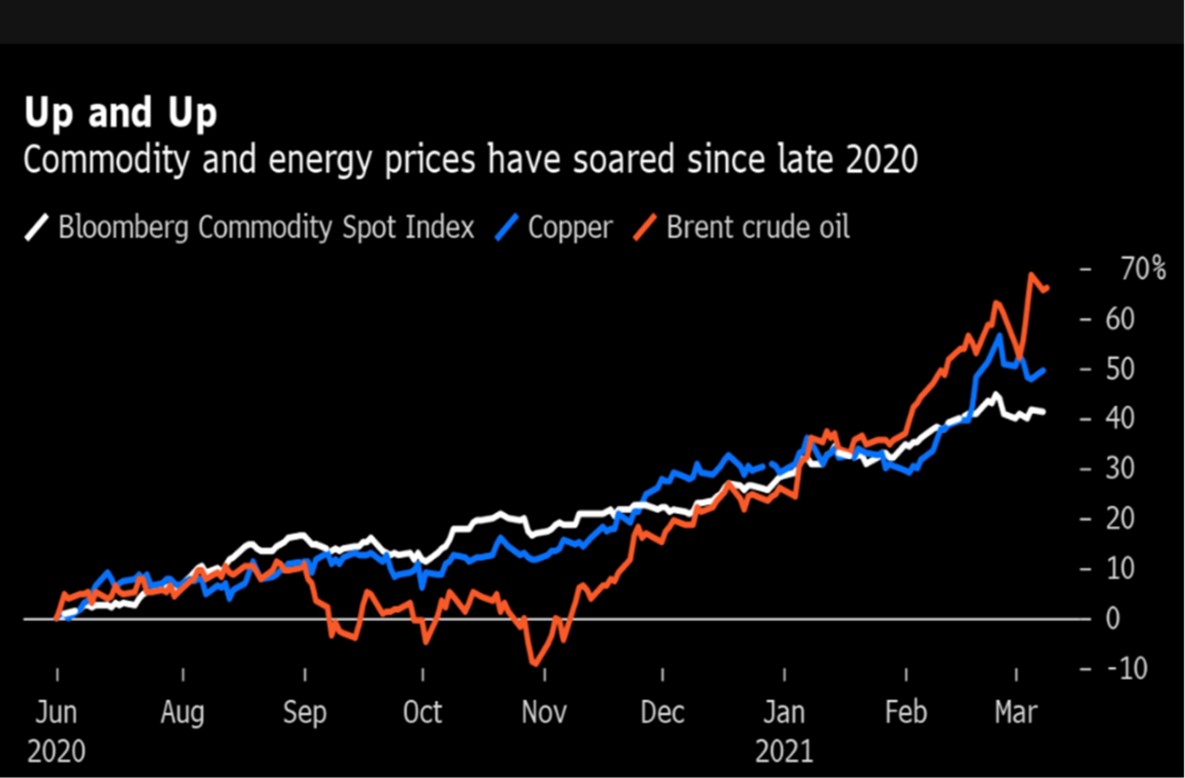 A strong US recovery will underpin a strong global comeback with the recovery from the pandemic recession now being dubbed as "the reflation trade".
Over the last 5 years, ASX 200 up 30%, Energy up 60%, Materials up 120%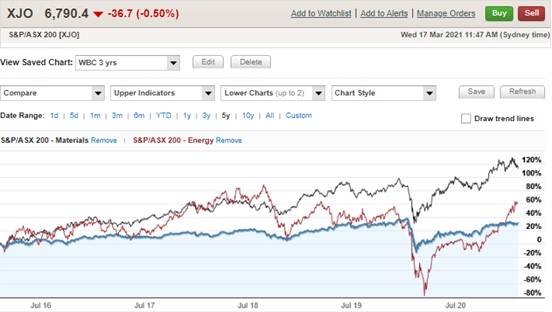 Global sector outperformance: Energy reverses last year's losses, while Tech takes a breather.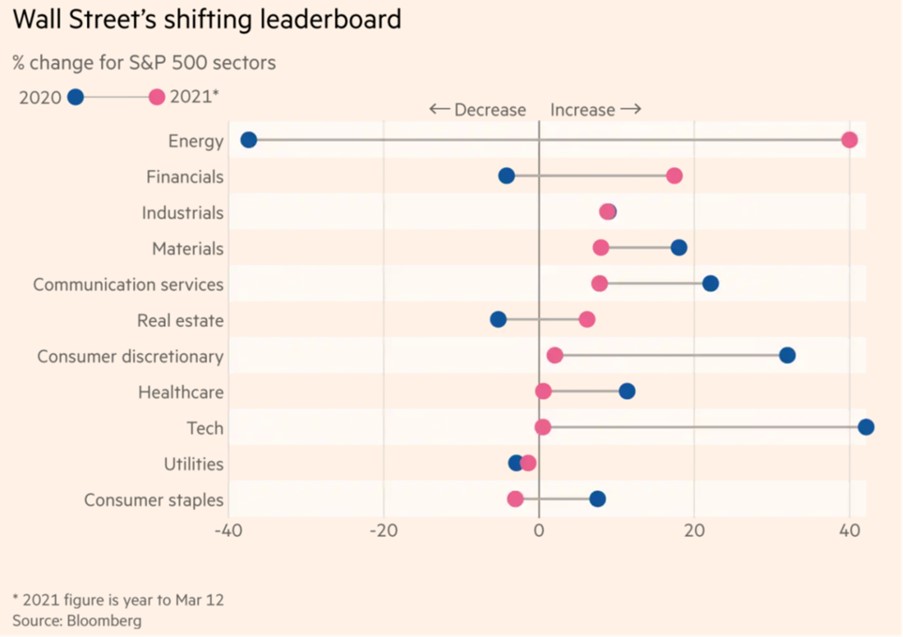 Some of the reasons for and consequences of "the reflation trade" have been:
Widespread central bank intervention to maintain low rates
Massive fiscal stimulus across most developed countries
Governments initiating infrastructure projects (commodity usage high)
Inflation expectations have risen
Bond yields have increased – particularly long rates past 7 years
The yield curve has steepened
Banks, materials and other cyclical sectors have outperformed
Commodity prices have risen
Emerging market equities, bonds and currencies have outperformed.
Commodity markets: where to from here?
When the pandemic struck, commodity markets and equities collapsed as the world faced deep recessionary conditions amidst lockdowns. Nevertheless, within a relatively short period, supply-side disruptions, a weak US dollar, and the surge in Chinese demand aligned to create strong demand for commodities and prices started rising sharply. Copper is up 80% since its March 2020 low, agricultural commodities have risen sharply (US corn is up 75% since August), and oil has bounced with WTI back at $60/bbl (after negative prices last April).
While the commodity complex continues to push higher, metals are particularly well poised to rally further. Over the next 12 months, they will benefit from robust demand on the back of the recovering global manufacturing cycle. Stronger consumption will probably outpace supply, which is suffering from years of mining capex neglect.
Favourable financial conditions will further support metals this year. The US dollar is expected to trend lower, while the Fed's accommodative stance will cap real rates in the US. That said, any change in Fed policy - whether actual or expected by markets amidst an inflationary spike - could cause volatile setbacks in this generally positive commodity scenario.
Longer-term trends are supportive. Metals benefit from the need to expand the global power grid in order to accommodate renewables amidst the push for cleaner energy. This is particularly true in the case of copper, which is experiencing a decline in inventories amid mine supply disruptions and resilient demand. The International Copper Study Group estimates global copper markets experienced a 482 thousand metric tonne shortage in the January-October 2020 period. This gap will only grow until more supply comes to the market, which will take many years.
"Dr Copper" looks particularly good – a looming global copper deficit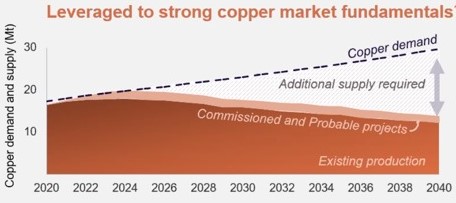 Source: 29 Metals IPO document
An interesting example (and tailwind) for copper is an analysis of its use in the creation of renewable energy infrastructure. The copper content per installed wind turbine is 2.5–6.4 tonnes per megawatt (generator: 0.7–4.0 tonnes of copper; cabling: 0.7–1.0 tonnes of copper; transformers: 0.7–1.4 tonnes of copper. Source: European Copper Institute). On average, a single wind turbine can contain 335 tons of steel, 4.7 tons of copper, 3 tons of aluminium and 700 pounds of rare earth minerals.
Other examples include the electrification of transport, which will benefit a host of metals, particularly nickel and lithium. Some of these themes will lead to excessive valuations and speculation, as is probably the case with listed Electric Vehicle manufacturers!
Electric cars and electric returns – it is already in the price!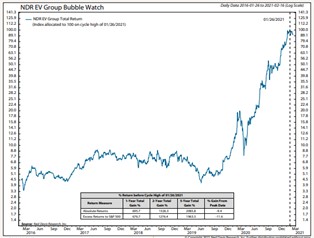 Source: Ned Davis Research

Australia's largest miners produce bullish outlooks
BHP summarised the macro environment in its latest results in the following slide: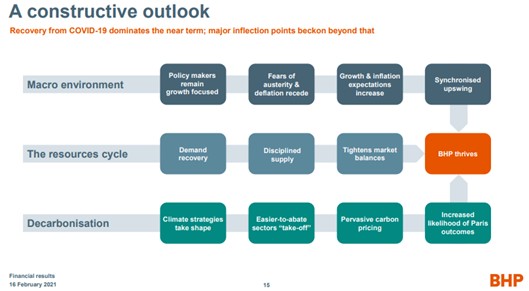 Source: BHP, February 2021
Below slide from RIO looking specifically at iron ore supply and demand dynamics: looking good.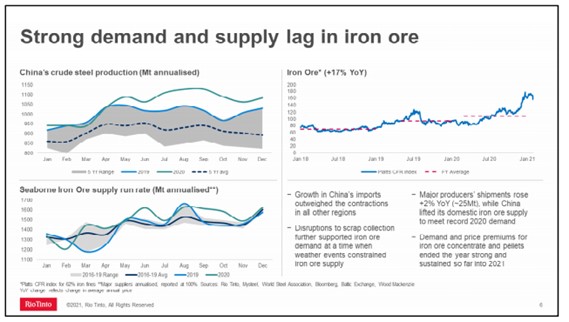 Risks to the thesis
Of course, there are plenty of reasons why the positive scenario might fail to play out as expected:
Pandemic causes repeat lockdowns as variants emerge not susceptible to vaccines
Double dip recession re-emerges in Europe
President Biden's infrastructure plan fails to get Congressional support
China's economic recovery stalls
China initiates a boycott of Australian commodity exports
Inflation spike followed by bond market collapse causes U-turn from central banks
Equity prices retreat as expected recovery fails
Strong AUD could crimp export earnings
Unexpected surge in supply could erode commodity prices
Markets perceive that equity prices already adequately account for future growth
Our Conclusion
We are confident that the following four supportive factors will ensure sustained higher commodity and metals prices for the next few years:
monetary and fiscal tailwinds,
increasing demand for infrastructure spend and a manufacturing recovery,
slow supply (raw materials) response due to long term under-investment, and
synchronised global economic growth.
It is our view that major commodity and metals producers should maintain their place in a growth-focused portfolio. Further, from an Australian perspective, the likelihood of a period of sustained and high cash payouts (franked dividends) is an added advantage of an exposure to Australian resource companies.
Learn more
Clime invests with a quality bias and a strong valuation discipline. Our approach seeks to deliver strong risk-adjusted returns by investing in a portfolio of high-quality Australian companies that are attractively priced, while assuming a lower level of total risk.

In developing our investment solutions, Clime considers multiple asset classes including Australian equities, global equities, fixed income, property, hybrid securities, debt and cash to focus on the best ideas and opportunities for our clients.