What should investors do when interest rates are at an all-time low?
Investors need to face a harsh truth: "Carry" (another name for the cash yield) is dead.
As this chart from the Bank of England shows, interest rates are the lowest in history and markets are suggesting that they will stay low for quite a while.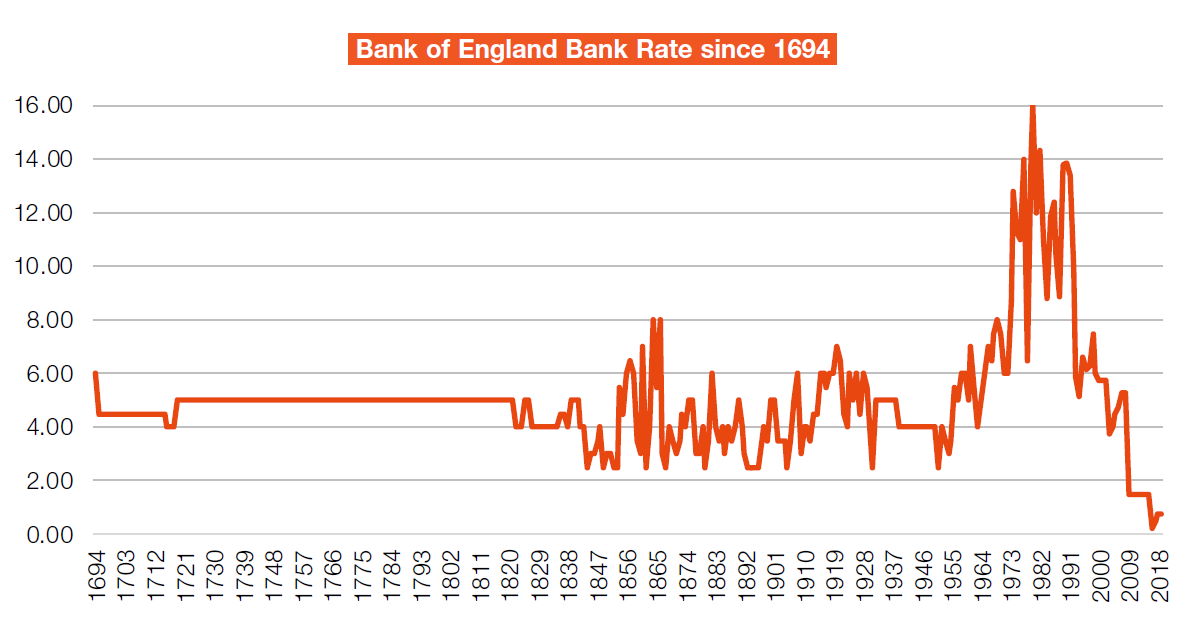 Typically, investors try to do better than cash by investing in "duration" – or having your money tied up for a period of time. In recent years, specifically since the GFC, term deposits have offered a return in excess of the cash rate. But historically, this is not the case.
With term deposit rates likely to fall below 1%, perhaps investors can invest for longer periods of several years and pick up some interest that way?
Unfortunately not, as the longest tradeable government bond of ten year's duration is also yielding less than 1%. Even as far as fifteen years from now, interest rates are only just above 1%.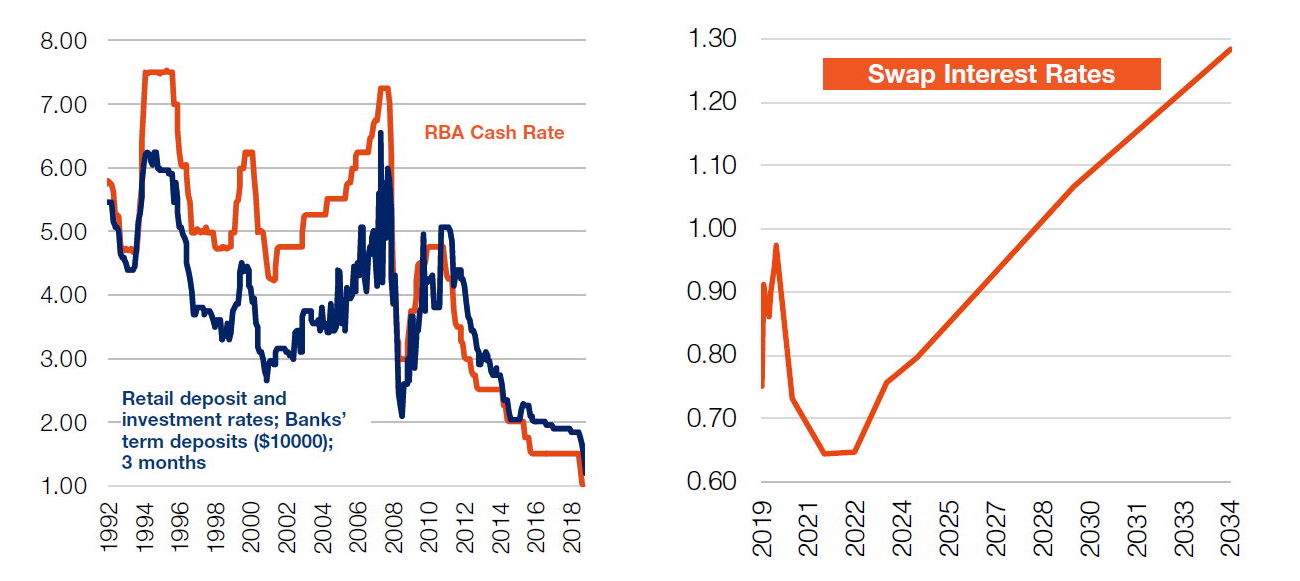 In order to generate income, investors will have to seek higher risk sources of return notably "credit" and "equity". This involves buying investments which derive part of their return via the premium investors demand to give up certainty of return.
In credit markets, as an example, we look to the Bank Hybrid market where Shaw and Partners have significant expertise and where we manage many hundreds of millions of dollars on behalf of our clients. A well-diversified portfolio of bank hybrids is currently expected to deliver a yield to call of approximately 3.25% including franking.
It should be stressed, however, that investing in hybrids is not without risk and readers are encouraged to read the disclosure of this report which pertains to investing in hybrid securities.
If this potential return from bank hybrids fails to excite investor interest, investors can seek equity for income.
The key here is not just the dividend yield and franking credits on the shares, but the expected total shareholder return (including capital gains or losses) and the degree of certainty investors have about the cash flows supporting the dividend payments.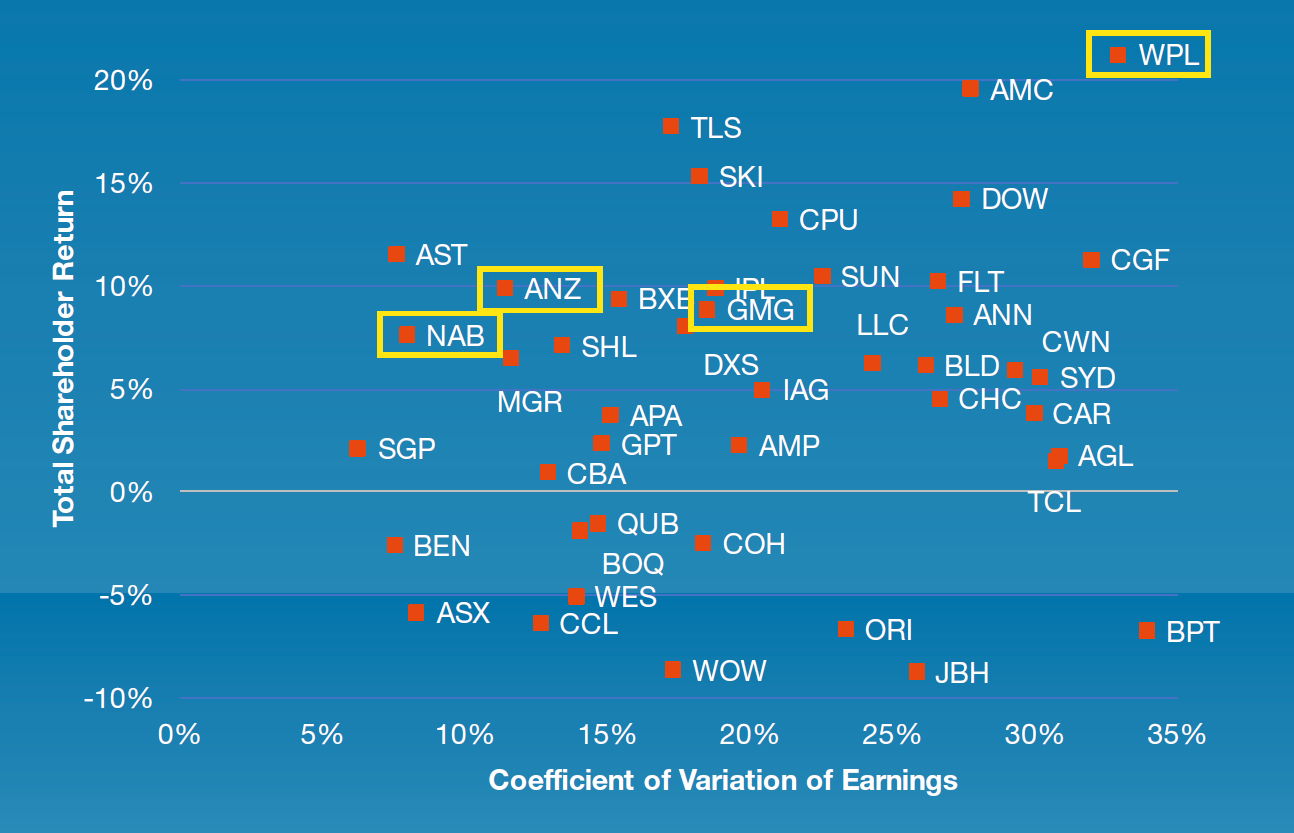 As an exercise, we have looked at those Top 100 Australian companies that have a ten-year profit history, looked at the variability of that profit history and compared this to the consensus view about the expected 12-month return from holding the shares to their expected twelve-month target price and receiving forecast dividends along the way.
This screen is illustrated above (with outliers removed).
From this group of stocks, we are attracted to ANZ Bank (ANZ), National Australia Bank (NAB), Goodman Group (GMG) and Woodside Petroleum (WPL) as examples. We think other "lower risk" stocks such as Woolworths (WOW) and Wesfarmers (WES) are too expensive.
Generally speaking, the degree of variation of dividend payments is much lower than the degree of variation in earnings – so a portfolio that is predominantly "yield" stocks will have lower volatility than one which relies on capital growth. Dividend yield of the Australian share market is remarkably stable, typically yielding around 4.5%.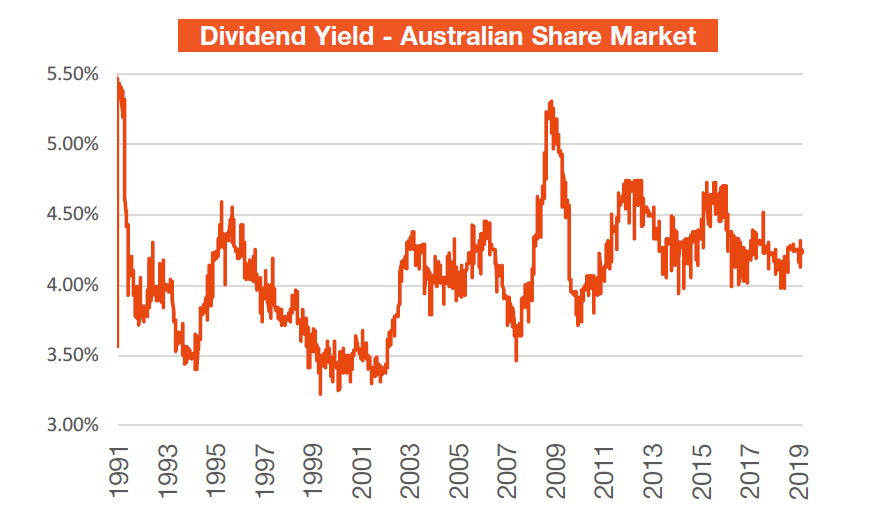 Learn more
With a national presence and over $18 billion of assets under advice, Shaw and Partners offers the intimacy of a boutique investment firm, backed by the resources and scale of a major financial group, EFG International.

At Shaw and Partners, we offer tailored advice and investment solutions, financial planning and corporate advisory services. We act for and on behalf of individuals, institutions, corporates and charities. We are client-focused, having helped our clients manage and grow their financial assets for over 30 years. Our emphasis on integrity has enabled us to achieve very high levels of client satisfaction while unlocking opportunities of significant value.

Backed by fresh thinking, robust research and some of the nation's best investment and wealth experts, our business has been designed to meet the growing needs of our clients. Shaw and Partners offers access to an extensive team of private client advisers, institutional sales and trading specialists, market-leading research analysts and strategic corporate financiers.

By working closely with clients and targeting their needs, we have forged strong long-term relationships. So, whether you are an ordinary investor, high net worth individual, charity, institution or corporate, our goal is simple: to listen to you, then act according to your needs alone.