As we drive towards the end of 2020, some of the major issues which have bedevilled markets and investors this year, seem to be on a path toward resolution.
However, there remain "elephants in the room" (so to speak) with mountains of government debt, enduring fiscal deficits, rolling QE programs and zero-bound interest rates. These represent short term policy solutions that are likely to become enduring policy settings. That creates a new conundrum for investors and asset managers that must be acknowledged in setting their portfolios.
First the good news
The US company Moderna Corp provided promising coronavirus vaccine news in recent times that has added fuel to the stock market rally since the sharp March downturn. Moderna said on Monday that its Covid-19 vaccine candidate is 94.5% effective in preventing the disease, sending its own shares soaring 14% in one trading day. The rotation of stocks by market traders that had begun last week when Pfizer issued similar news gathered impetus.
The rotation of trading portfolios involved an increased allocation to "value stocks" (those measured by actual profitability) that have been left behind during the pandemic. In the US the rotation was observed out of high flying (and arguably expensive) giant tech stocks, the selling off pandemic market favourites like Zoom and Clorox, matched with a heightened level of buying interest in beaten down (and heavily shorted) financials. Other biggest stock gainers were firms in real estate, energy, casinos and cruise lines.
The Moderna efficacy is impressive, albeit not that different from Pfizer's. Other potential vaccines are also in the pipeline across the world. The good news is that the hopes for effective prevention methods and treatments are advancing rapidly, and whether it takes 6, 12 or 18 months, eventually the worst of the pandemic will be behind us. Therefore, the likelihood of economic recovery is not now in doubt and economists are upgrading their forecasts for economic recovery.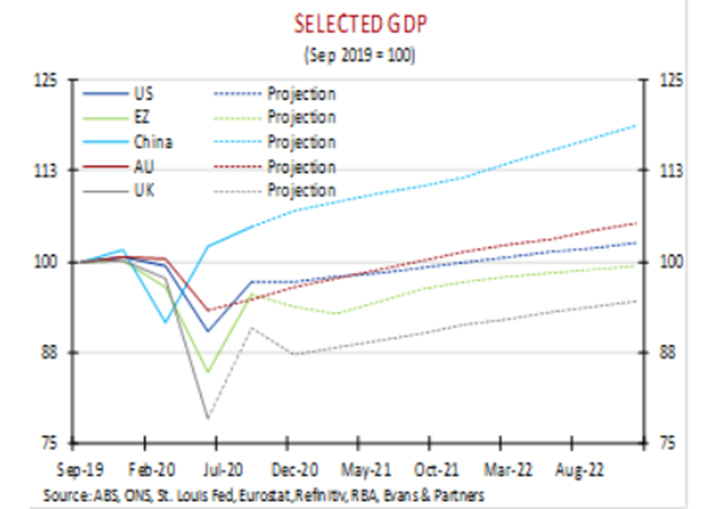 As noted above, the US equity market was buoyed by vaccine developments and major US indices hit new highs shown by the 5-year chart of the S&P 500 Index below.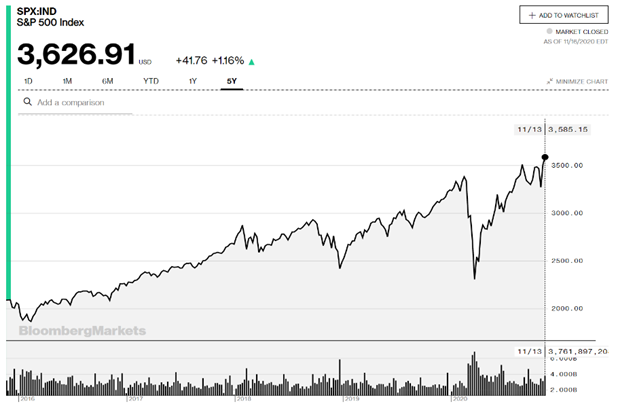 In Australia, the ASX 200 is lifting alongside other global markets and closing on the level it began 2020. However, readers will remember that our market is still 5% below its pre-GFC peak (in 2007).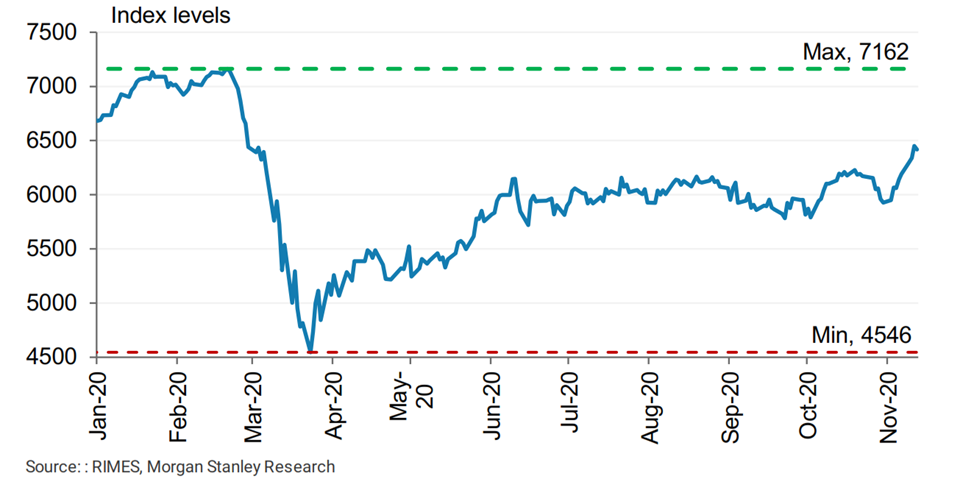 Markets are buoyed by two factors at present.
First, is PER expansion caused by zero-bound bond yields. Noteworthy is that in recent months, the German
30-year bond
has moved to a
negative yield
(-0.17%). Little wonder that the German stock market roared upwards - but not quite to a record high.
Second, are the earnings upgrades that flow from economic growth upgrades. Thus, EPS forecasts are rising across the world as analysts led by economists foresee an end to the Covid recession and a certain recovery.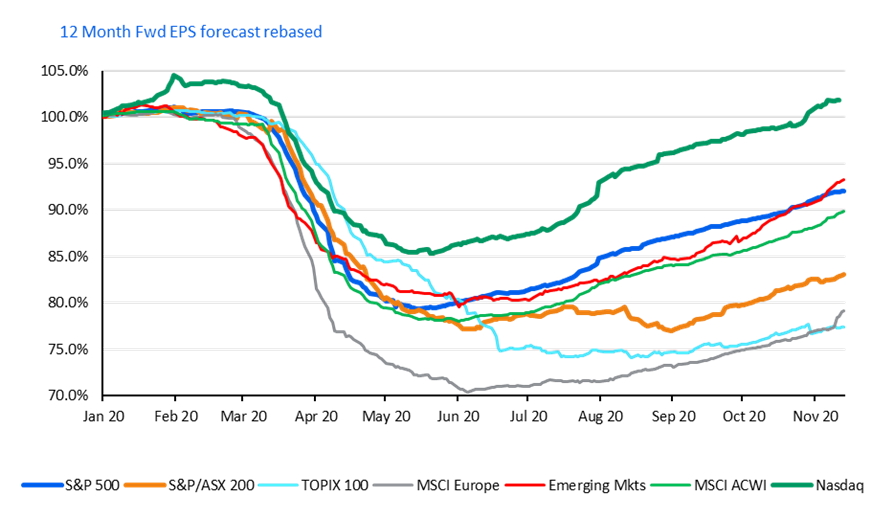 Away from asset markets, we are observing the recovery in real economic activity. In the US, total retail sales during October bounced back strongly, albeit with significant changes in composition. Compared with Oct 2019, total retail sales in the US were up 5.7%. Whilst department store sales were down, e-commerce sales surged to new all-time records. E-commerce has become the second-largest category in US retail sales, behind auto and parts sales, accounting for 16% of total retail sales.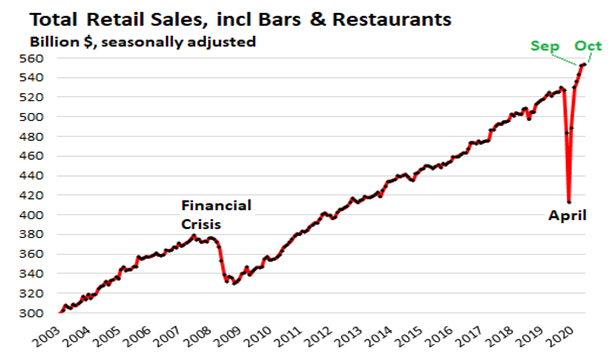 Source: US CensusBureau, WolfStreet.com
In Australia, both business confidence and consumer confidence are recovering in a vigorous fashion.
In the US, housing has been unexpectedly resilient through the Covid downturn. Building stocks have benefited from PER expansion, building activity is recovering and US house prices have bounced. Indeed, house prices have actually outperformed the share prices of building stocks.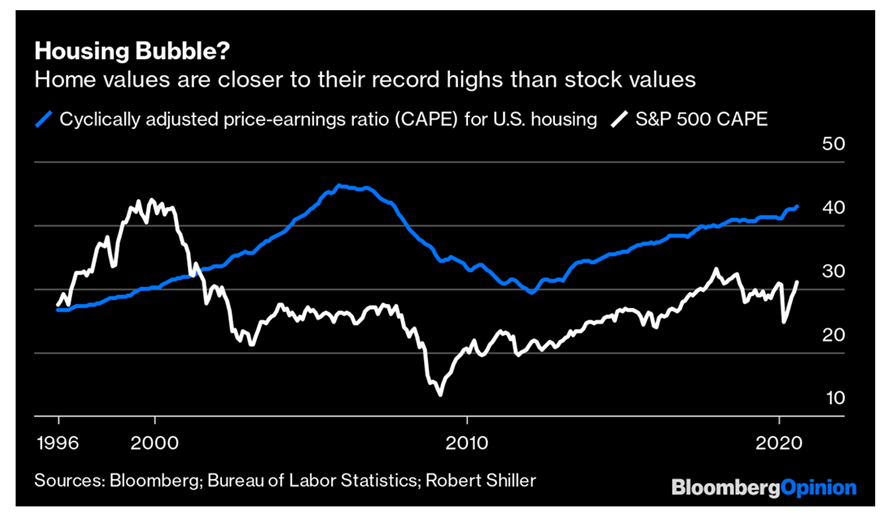 Australian residential property has also performed far better than initially feared – except for small high-rise apartments. Following various stages of lockdown, most urban residents are prepared to pay a premium for larger space and better locations and have increased spending on home luxuries (electronic appliances, entertainment and more expensive kitchens and food ingredients). This divergence is showing up in capital cities across Australia, as illustrated by the following chart. This is particularly true in Sydney and Melbourne, where the advertised rent growth for houses has held up, whereas rent growth for apartments and townhouses has not.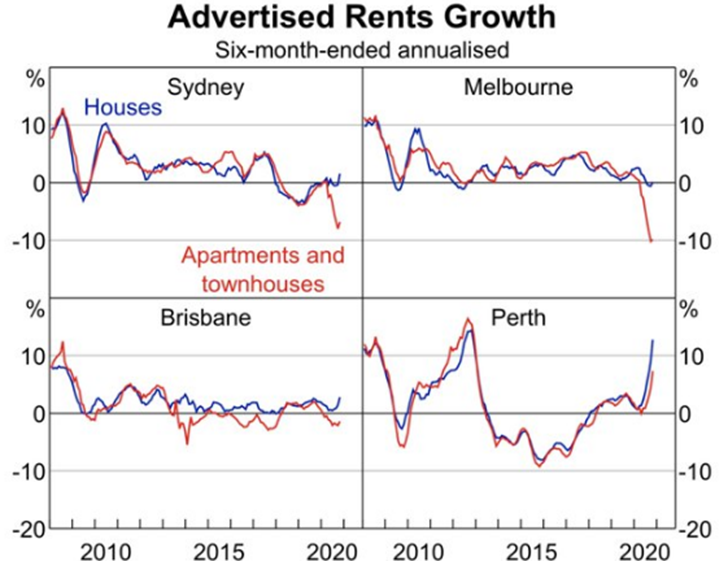 More sobering forecasts and observations
Of course, it is not all good news, and the pandemic will leave lasting scars. Across the developed world (ex-Australia), high rates of unemployment are likely to endure. For instance, one in ten jobs worldwide is linked to travel and tourism and those industries are supported by a myriad of small businesses such as hotels, bus companies, tour guides, restaurants and souvenir shops. The knock-on effects are significant from the closure of international travel.
More broadly across the world, the economic impact of the pandemic has resulted in a sobering IMF forecast that "close to 90m people could fall below the $1.90 a day income threshold of extreme deprivation this year".
Many hundreds of thousands of small and medium-sized businesses have been decimated, and large corporates hurt, as demand for their output collapsed or they were locked down. The second waves and potential third waves now crashing on many economies in Europe and the US will make this worse. As the IMF's Global Financial Stability Report shows, financial fragility is increasing in already highly indebted sectors of high-income economies, as well as in emerging and developing countries.
However, it all could have been much worse. The world economy has benefited from extraordinary support from central banks and governments. The IMF has reduced its forecasts in the cumulative growth in GDP per head for advanced economies - from 7% to below 5% in its October update.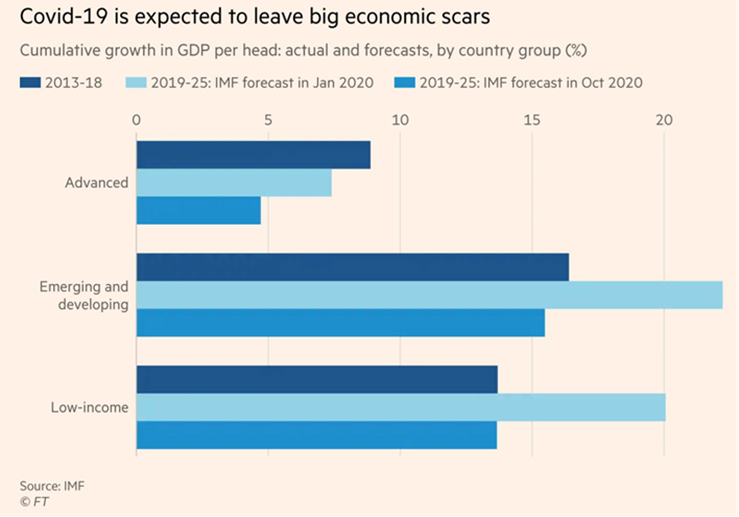 In another signal of difficulties, corporate yield spreads remain elevated and above pre-Covid levels, indicating the additional costs borne by corporates that do not qualify as high-quality grade. It is this part of the market that many retail investors are being attracted to, given the yields on offer are far superior to bank deposit rates. However, the elevated yields do not always appropriately compensate investors for the risk.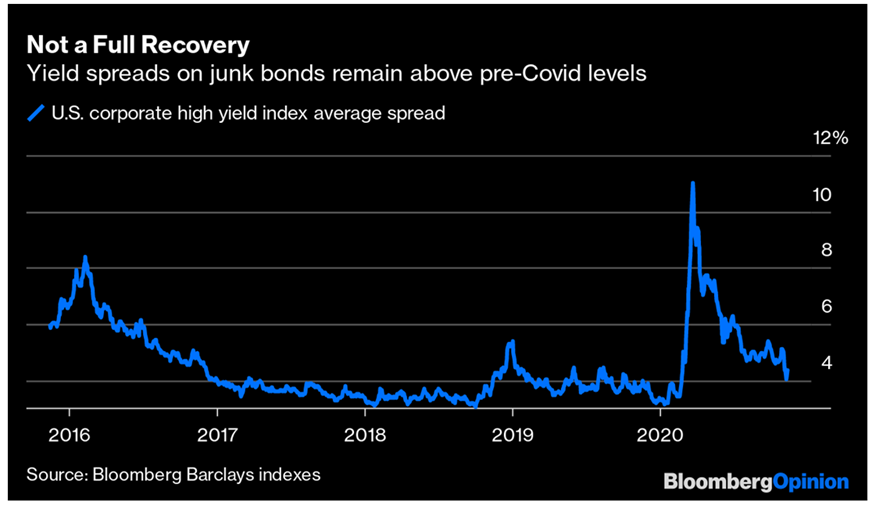 Sovereign debt has reached historic levels as countries across the globe do their best to support and sustain economic activity in the face of the pandemic recession; estimates suggest fiscal and monetary responses exceed $12 trillion dollars in total – far in excess of what was expended in the aftermath of the GFC.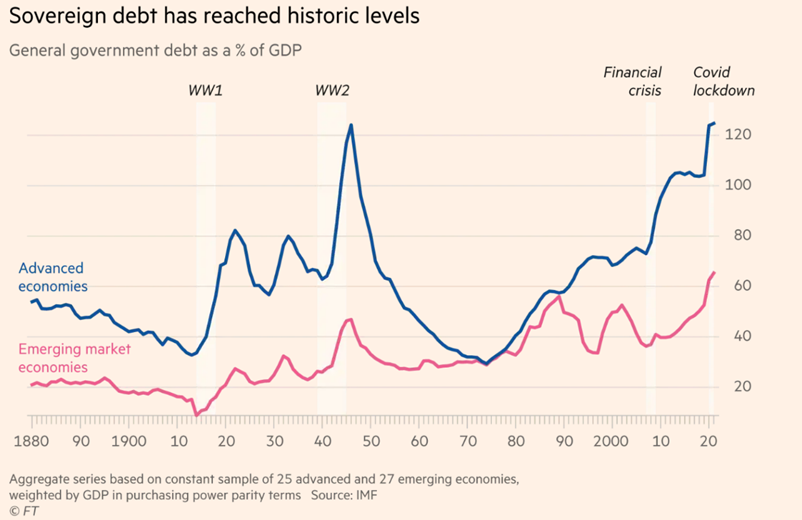 Massive spending is going to raise public deficits and debt substantially. The global general government fiscal deficit is forecast to hit
12.7% of world GDP
this year; in high-income economies, it will reach
14.4%
. The global ratio of general government debt to GDP is forecast to jump from
83% to 100% of GDP
between 2019 and 2022, with high-income countries going from
105% to 126%
.
Fortunately, for high-income countries, real interest rates on long-term borrowing are either close to zero, or even below zero. Central banks are also committed to maintaining very easy monetary policies.
Noted commentator Martin Wolf recently opined that
"Governments can afford to spend. What they cannot afford is not to do so, leaving economies to falter, people to feel abandoned, economic scarring to worsen and economies to be caught in permanently lower growth."
Spare capacity is forecast to persist for an extended period, ensuring that inflation remains relatively benign. Of course, this represents the "consensus expectation", and one thing we have learnt from the Covid pandemic is to acknowledge that the unexpected sometimes happens.
As renowned entrepreneur Mark Cuban noted
"Expect the unexpected, and always be ready – everyone has inside them what it takes to be successful. You just have to be ready to unleash it when the opportunity presents itself."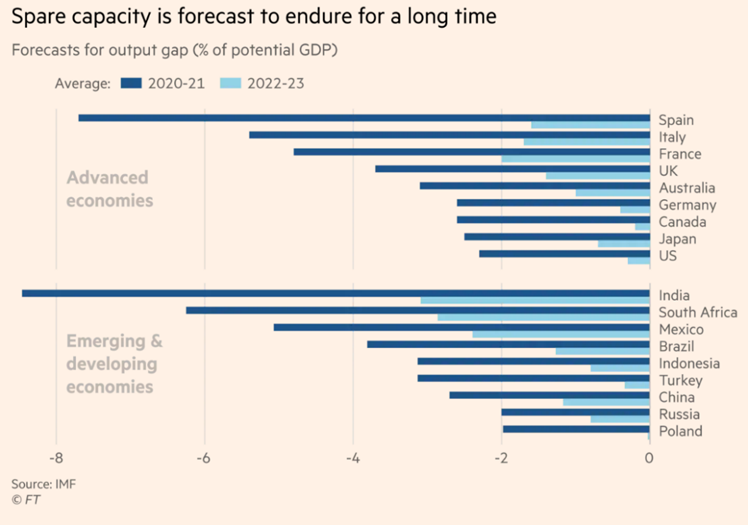 Long-Term Economic Impact of COVID-19
So, as we noted above, there have been encouraging recent developments that have buoyed markets, but these are mixed with observations or predictions of longer-term headwinds.
A good summary of what might await from a macro perspective was (in our view) presented by the former PIMCO CEO, Mohamed El-Erian, when he was asked what will be the most important economic consequences of the coronavirus crisis that will manifest themselves in 5 to 10 years from now.
He suggested that there are going to be three effects:
First, every segment of society will emerge with more debt—government, companies, and households. Debt is a way to make sure that short term problems don't become long term calamities, from an even greater surge in unemployment to corporate liquidity problems that become solvency issues.
Second, we will emerge with lower productivity and that lower productivity is going to come from three things: (1) Companies now will put greater emphasis on resilience versus efficiency… (2) The second element leading to lower productivity will be a general impetus to de-globalization… (3) We are going to see a lot of entanglement of the public sector in the private sector… from bailouts to the Federal Reserve involved in the lower parts of the capital structure, and therefore taking on more credit and default risk.
Third is consumer risk aversion. A lot will depend on the duration and severity of the shock, but we anticipate that we come out from the crisis with a more cautious household sector.
In sum, we expect higher debt, lower productivity and lower demand."
We agree with this analysis, and it suggests that short term investment returns – which are currently buoyant - will invariably stall or slow at some point in the future. Outside the US stock market and the QE-created capital gains generated in bond markets, we must acknowledge that stock indices are merely recovering what they lost in March.
At some point, the competing winds of recovery (from Covid) and fundamental changes (caused by Covid) will weigh on each other to produce a lethargic world economy. Inside this sober outlook, we maintain that Australia is much better positioned than most – not only in controlling Covid – but in driving growth in recovery. Thus, we maintain our view that investors need to stay invested in both Australian equities and quality property assets.
The final chart shows the ratio of Australian share prices to global share prices in local currency terms. Over the last 30 years, the relative performance of Australian shares has seen three waves – underperforming through the tech boom until March 2000, outperforming through the resources boom of the 2000s, but underperforming since the GFC (October 2009).
There is now good reason to believe that this relative underperformance will start to reverse in the year ahead if the Australian economy recovers faster, cyclical sectors (like resources and financials) come back into favour over growth stocks (like IT and healthcare) and as commodity prices rise. As a result, it's hard to maintain a strong case against Australian shares in favour of global shares.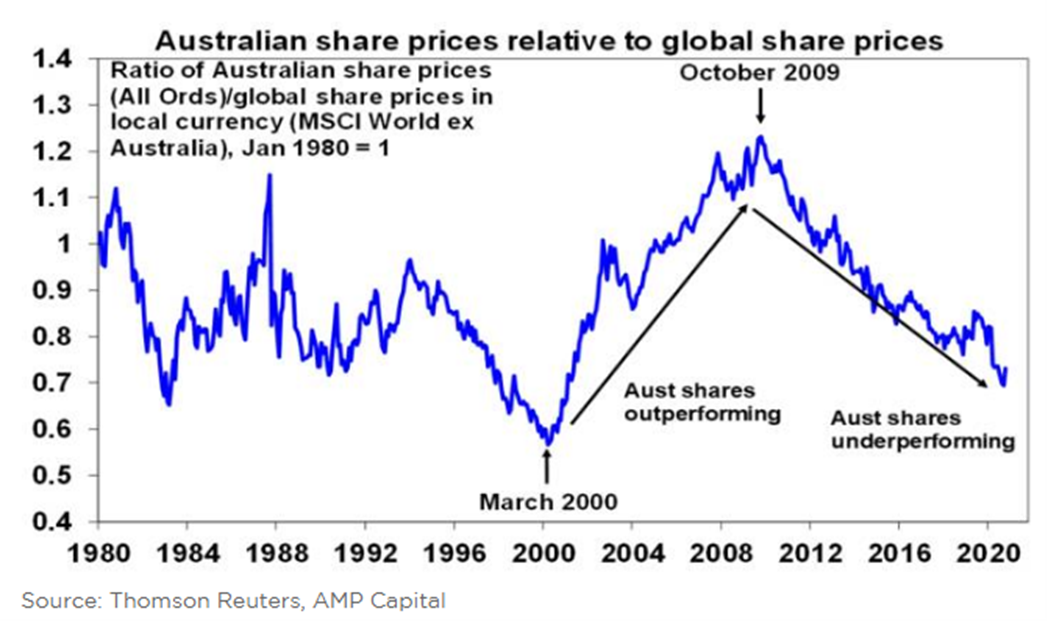 Source: Shane Oliver, AMP
Learn more
Clime invests with a quality bias and a strong valuation discipline. Our approach seeks to deliver strong risk-adjusted returns by investing in a portfolio of high-quality Australian companies that are attractively priced, while assuming a lower level of total risk.

In developing our investment solutions, Clime considers multiple asset classes including Australian equities, global equities, fixed income, property, hybrid securities, debt and cash to focus on the best ideas and opportunities for our clients.