Much has changed since our 2022 outlook - a war, energy shock and the Federal Reserve's pivot on monetary policy. We stay underweight bonds, even as yields have sprinted upward, and overweight equities – with new regional differences.
Entering a new market regime
We said at the end of last year that we were entering a new market regime, and expected a second consecutive year of negative bond returns and global stock gains – what would be a first since data started in 1977.
We thought bonds would suffer from high supply-driven inflation that central banks would be forced to live with. We also expected equities to do well amid a restart of economic activity and low real, or inflation-adjusted, interest rates. A lot has changed since.
Energy shock, Fed spur outlook update
The Fed, along with other major central banks, has pivoted to normalize rates faster than expected. Rates are normalizing to pre-covid levels as economies no longer need stimulus – this is a big change from central banks' guidance at the end of last year. We remain underweight bonds as we see long-term yields climbing further – even after shooting up in the first quarter. We believe investors will start questioning bonds' perceived safety premium – and demand extra compensation for holding them in the inflationary environment.
Global equities vs. global bonds, annual returns, 1977-2022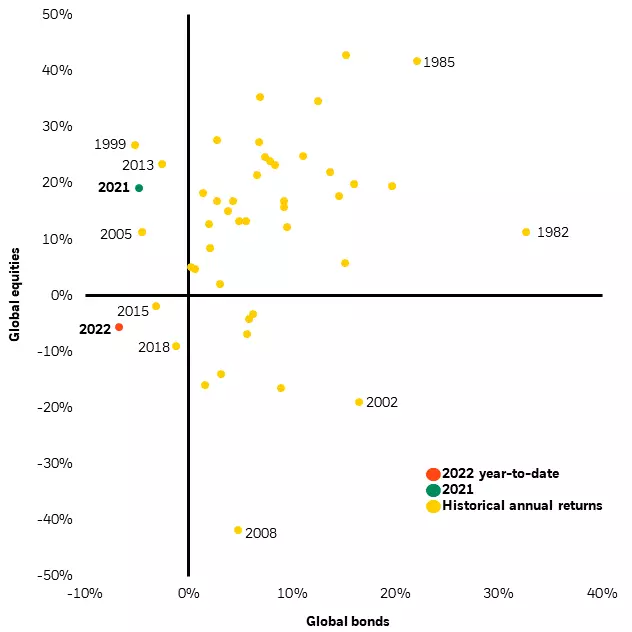 Past performance is not a reliable indicator of current or future results. Indexes are unmanaged and not subject to fees. It is not possible to invest directly in an index.
Sources: BlackRock Investment Institute with data from Refinitiv Datastream and Bloomberg, March 2022. Notes: The chart shows annual returns for global equities and bonds in U.S. dollar terms from 1977-2021. Index proxies are the MSCI All-Country World index for equities (MSCI World before 1988) and Bloomberg Global Aggregate index for bonds (U.S. Aggregate before 1991).
Equities have also had negative returns (see the chart above). The reasons: Central banks' hawkish pivot and the tragic war in Ukraine. Russia's invasion resulted in a commodities price shock felt around the globe. We see more challenges ahead as the West seeks to wean itself off Russian fossil fuels. We expect lower growth this year, especially in Europe, and higher and more persistent inflation.
What are the risks?
The war has spurred a drive for energy security – and created an energy supply shock that came on top of an existing one from the Covid-19 shock. The result: higher and more persistent inflation.
The Fed is projecting a large and faster increases in rates over the next two years in an attempt to tame inflation. It's easy to talk tough, but in a world shaped by supply – with manufacturing bottlenecks and high commodities prices – monetary policy can only tame inflation at a high cost to growth and jobs.
And yet the Fed still projects low unemployment. To us, this signals its true intent: live with inflation to maintain economic activity and jobs.
What are the risks? Central banks could slam the brakes on the economy by rapidly raising rates to a level that destroys growth and jobs. Inflation expectations could become unanchored: Markets and consumers could lose faith that central banks can keep a lid on prices. This possibility makes the first risk more real.
Our bottom line:
The Fed is ready to normalize, and we see it delivering on its projection of large and rapid increases in rates this year. We expect it to then pause to evaluate the effects on growth. As a result, we expect the sum total of rate hikes to be historically low given the level of inflation.
An upgrade and a downgrade
We remain pro risk on a tactical horizon and prefer equities over credit. The inflationary environment favors stocks, in our view, and many Developed markets (DM) companies have been able to pass on rising costs and keep margins high.
We see more downside risk for government bonds – even as 10-year U.S. Treasury yields are hovering near three-year highs. DM government bonds are less effective portfolio diversifiers in periods when supply shocks dominate, as they do now. Within the asset class, we prefer short-maturity bonds over long-term ones.
We prefer equities over credit. We also like the combination of low real rates, the restart's economic growth cushion and reasonable equity valuations.
We reduce our overweight to European equities
as we see the energy shock hitting that region hardest. Also, prices have rebounded from the year's lows. Why not shift to an underweight? We expect the European Central Bank to only slowly normalize policy.
We increase our overweight to Japanese stocks
on prospects of higher dividends and buybacks, and supportive policy. We like the U.S. stock market as we see its quality factor resilient to a broad range of economic scenarios.
Learn more
Investment Expertise, Simply Delivered.

We want to help you achieve your investment goals and believe that the best way to do that is to offer a selection of actively managed multi-asset portfolios.

Building our portfolios with iShares ETFs means that investors can gain the potential benefits of asset allocation with underlying investments that closely follow an index.

Our model portfolios are constructed to optimally balance long–term returns, risks, and costs as per the objective of the four risk profiles. As a result, each portfolio has a unique objective, offering exposures to various asset classes, industry sectors, style factors, currencies, and geographies.

Reviews and Rebalancing

Our model portfolios are constructed and supported by a global team of investment strategists and monitored by BlackRock's sophisticated risk-management engine, Aladdin – the same technology used by some of the most sophisticated investors and institutions around the world.

The portfolio asset allocations are reviewed regularly and rebalanced where appropriate, as per the objective of each model. This is to ensure that the portfolios remain optimally balanced for risk, return, and cost.

*As of June 30, 2021, the firm managed approximately USD$9.5 trillion in assets on behalf of investors worldwide.