Every so often, one comes across a news item that really sticks in one's craw.
For this writer, the New York Times revelation that President Donald Trump had paid just $750 in Federal income taxes in 2016 and the same amount in 2017, and nothing at all in ten of the last fifteen years, largely because he lost so much money, comes as just such an item. Not because it is a surprise. Not because it is out of character for this man. It is because the global pandemic has driven a spike in global inequality that seems so unfair and so egregious that it bears noting and discussing.

Donald is not happy.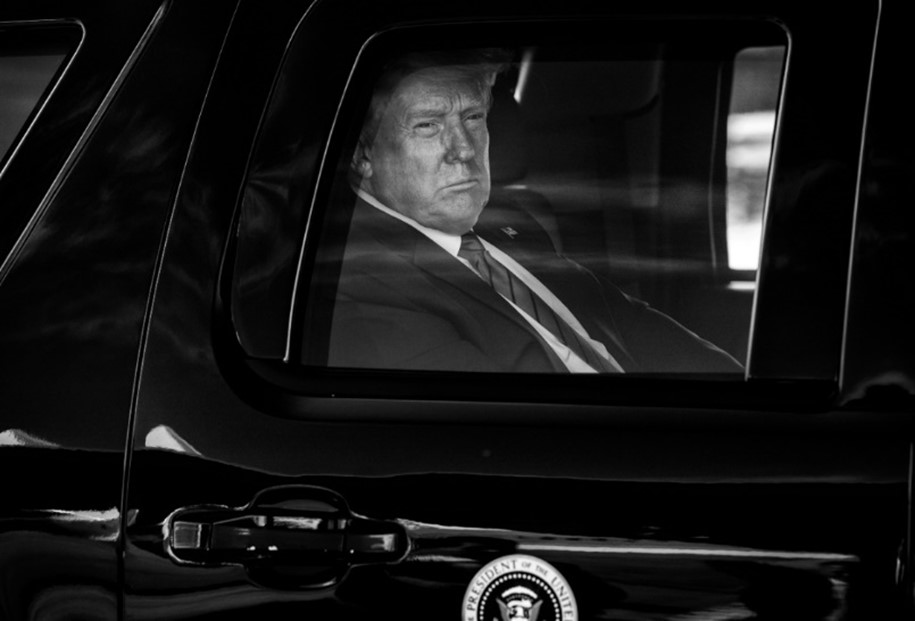 In "The View", we do not seek to make a political statement and we acknowledge that amongst our staff, our clients and our readership are to be found a wide divergence of political views and opinions. This is as it should be. However, the global pandemic has exposed a rot within many establishments and institutions – whether corporate malfeasance, institutional corruption, bureaucratic ineptitude, political dishonesty, abuse of technological power, invasion of privacy, degradation of the environment, and much more besides – and these issues need to be called out. For moral reasons, certainly; but also for the wellbeing of society at large, for the productive and efficient functioning of our country and our global community, for the respect of norms and conventions, all of which serve ultimately to build a liveable society, and so too our financial security and standard of living.
As President Trump wages a re-election campaign that polls say he is in danger of losing, the NYT is reporting that his finances are under stress, beset by losses and hundreds of millions of dollars in debt coming due that he has personally guaranteed. Also hanging over him is a decade-long audit battle with the Internal Revenue Service over tax refunds that he claimed, and received, after declaring huge losses.
These are bombshell revelations, because with the election just weeks away on 3 November, finally comes compelling evidence that the narrative Trump has built his image upon is just sand blowing in the wind. The tax returns that Trump has long fought to keep private portray a businessman who takes in hundreds of millions of dollars a year yet racks up chronic losses that he aggressively employs to avoid paying taxes. Now, with his financial challenges mounting, the records show that he depends more and more on the cash generated by businesses that increasingly risk putting him in conflict with his job as president. And a significant proportion comes from malevolent foreign actors.
The election is still too close to call. Joe Biden is hardly an inspiring alternative, and Trump may thump him in the debates. Many of Trump's supporters don't really care about the man's character, or whether he tells the truth, or has a strategy, or moral convictions… Many of them see him as a spokesman for their prejudices, a scourge of the liberal media and the intellectuals and elites that they feel have stolen their country. His venality and dishonesty, even his boast that he may not abide by the results of the election and facilitate a peaceful transfer of power, apparently matters little to many of them. So this US election represents a period of uncertainty the likes of which we have not seen before.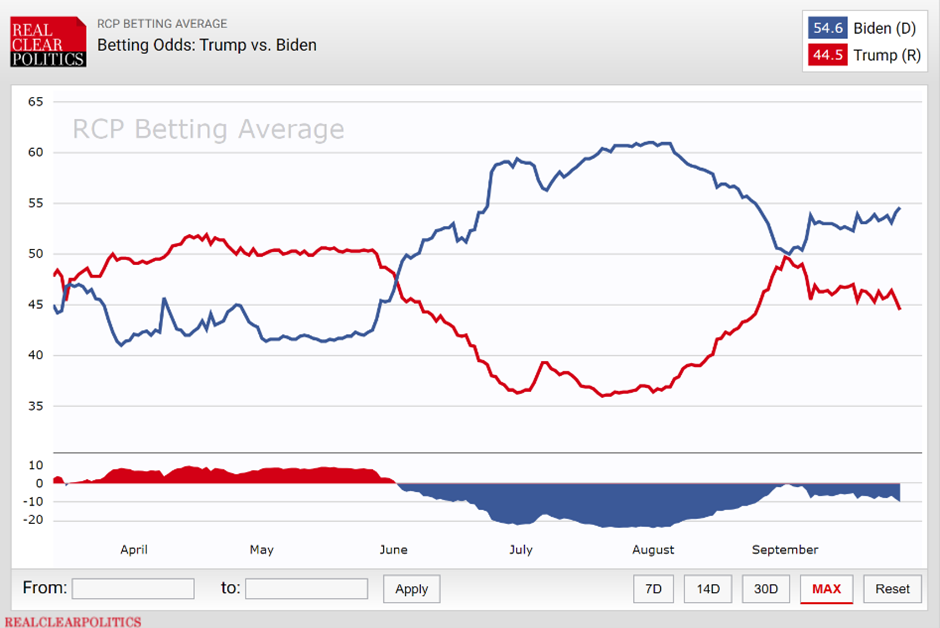 Source: RealClearPolitics
What is certain is that the COVID-19 pandemic has caused at least a million deaths, devastated countless families across the globe, seen vast job losses that are unlikely to return soon, the failure of hundreds of thousands of small and medium sized businesses, and created a blow-out in the gulf between rich and poor.
Digitization and employment
There are many and varied consequences of the pandemic, much of which is still not really understood. The trend of digitization, for example, which has seen the rise and rise of Big Tech, may have unintended consequences. Digitization enables remote working and discourages business travel. It facilitates rapid growth in digital services covering everything from health care to complex resource mine management to home deliveries. Perhaps a decade of expected advances in these areas has been compressed into six months.
In combination with decades of effectively outsourcing manufacturing to lower cost countries, these are enormously powerful trends that are delivering a shock of historic proportions to the global workforce. Supply chains will be reinvented, and we are likely to see a growing surplus of unskilled labour, thus lowering its cost, while concentrating wealth in fewer and fewer hands (the shareholders, specialised employees and managers of the new digital world). Apple became the first US company to achieve a $2 trillion valuation even as unemployment in America spiked to its highest level since the Great Depression of the 1930s.
Over the long run, digitization is likely to boost productivity and benefit societies overall. The problem is for those losing their employment today. Virtually overnight, cameras are replacing security guards; drones are taking over from delivery drivers; robots are doing away with floor cleaners and window-washers; harvesters are replacing the fruit pickers. How will the unskilled workers find new productive employment? Providing care for the growing band of elderly can only absorb so many.
Workers all around the world need a new deal. Even before Covid-19 struck, it was clear that America's social contract was in tatters, evidenced by a summer of Black Lives Matter protests and often destructive riots. Inequality was growing as companies grabbed an ever-larger share of national income, often at the expense of blue-collar workers. And although the job market was buoyant, with unemployment down to 50 year lows at 3.5%, the longer-term prospects for many workers were already sinking: new jobs were often lower-quality with fewer hours and low wages (for example, Amazon fulfilment centres).
The IMF in a recent article made many of the same points, stating that the effects of the pandemic would be felt for years to come – and be borne disproportionately by the poor.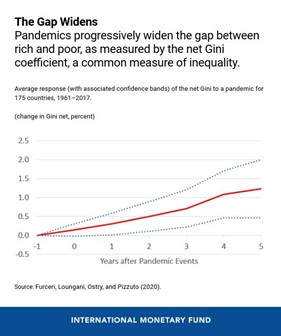 According to the IMF,
"The COVID-19 crisis is now widely seen as the greatest economic calamity since the Great Depression. In January, the IMF expected global income to grow 3 percent; it is now forecast to fall 3 percent, much worse than during the Great Recession of 2008-09. Behind this dire statistic is an even grimmer possibility: if past pandemics are any guide, the toll on poorer and vulnerable segments of society will be several times worse. Indeed, a recent poll of top economists found that the vast majority felt the COVID-19 pandemic will worsen inequality, in part through its disproportionate impact on low-skilled workers."
The long-term effect on the low-skilled will surely translate into a less fair society, with the implied consequences of greater tensions between the "haves" and the "have-nots", inevitably resulting in rising political polarities and a toxic subscription-media driven battle for hearts and minds in a manipulated social media world.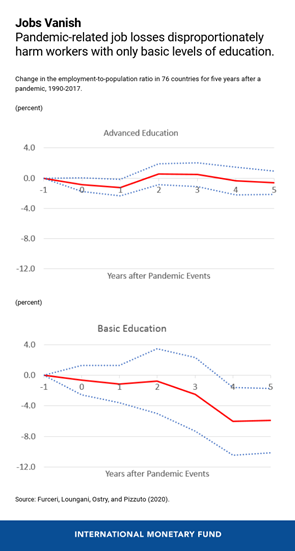 In among the sobering picture, however, there is good news and no shortage of prescriptions for how to move forward. Arguments include making permanent the extension of unemployment support and insurance to many more of those adversely affected by the recession, and others who previously did not qualify; investing to upskill those whose jobs were made redundant; building public infrastructure; creating "armies" of young people to re-build a degraded environment. Remember JFK's Peace Corp?
Perhaps the current crisis has us yearning for a simpler time, but President Kennedy's words (and America's image in the world) are a chasm away from President Trump's insouciant tweeting.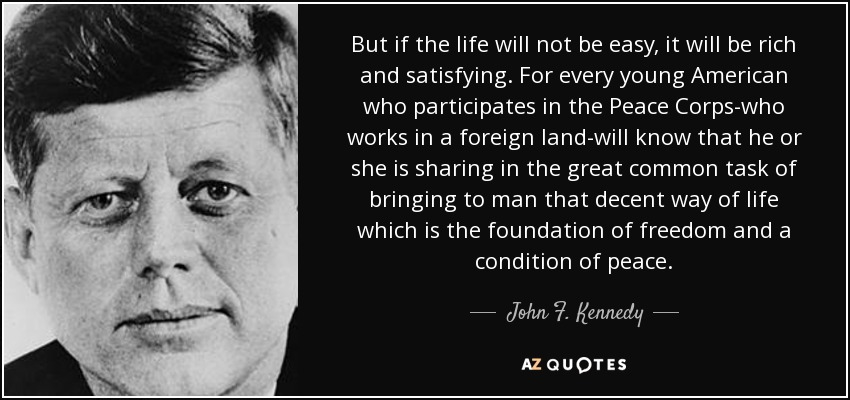 In a research paper published in March 2020 by the Brookings Institute ("Declining worker power and American economic performance" (see
www.brookings.edu/bpea-articles/declining-worker-power-and-american-economic-performance/
), Harvard Professor Larry Summers and Anna Stansbury argues that the fundamental problem is that workers lack the power to claim more corporate profits, leaving the lion's share to owners of capital. "Overall, we believe that increasing worker power must be a central and urgent priority for policymakers concerned with inequality, low pay and poor work conditions."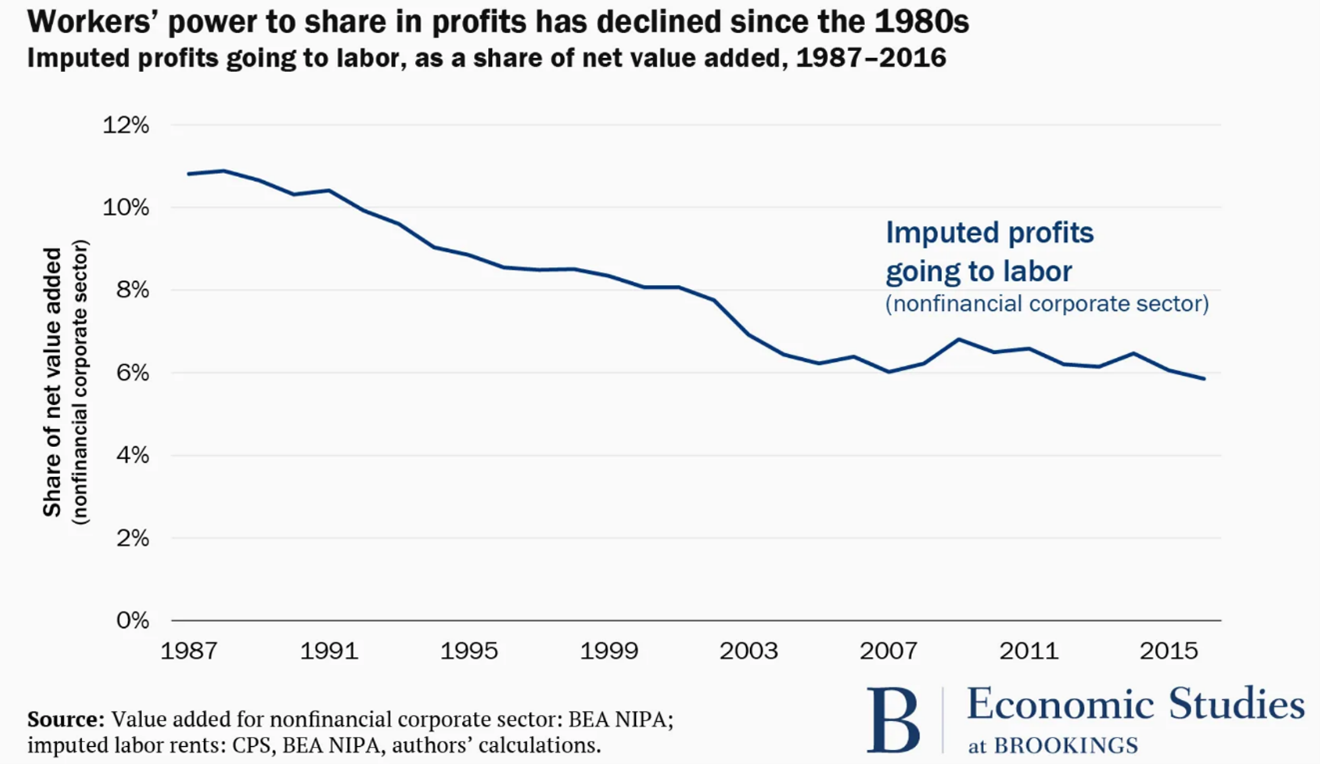 Source: Brookings Institute
A new deal for workers will likely become a central theme of the next few years, regardless of who wins the US election. It is an urgent task: recovery will depend in large part on how well societies care for workers who make their living by looking after those much more fortunate than themselves.
ACOSS Report
A recent report from the Australian Council of Social Service (ACOSS) provides a baseline against which to measure the impacts of the pandemic on income and wealth inequality. It highlights the ameliorating effects of timely Government policy responses – including increased JobSeeker and JobKeeper payments – but warns that the long-term effect of the pandemic on income and wealth inequality will depend on how these policies evolve.
Using the latest available ABS data, the ACOSS/UNSW Sydney Poverty and Inequality Partnership Report finds that, pre-COVID, the incomes of those in the highest 20% were 6 times higher than those in the lowest 20%, with that gap widening since 2015-16 (when the ratio was 1:5). An examination of wealth data shows that, for the first time, average household wealth exceeded $1 million in 2017-18. However, the distribution of wealth in Australia was deeply unequal, with the average wealth of the top 20% ($3,255,000) some 90 times that of the lowest 20% ($36,000). Those in the lowest 10% held $8000 in average net wealth, and the bottom 5% held net debts of $5000.
The report also examines available data on the impacts of COVID 19 on employment and incomes to explore the likely impacts of the pandemic and associated lockdowns on inequality in Australia. It confirms that the pandemic has had a stark impact on those in lower paid jobs, with the average wage of people in the most affected industries half that of people in least affected industries even before the pandemic. The majority of those affected by deep income losses are women and young people.
According to the report, and quoting directly from it:
Given the very low wealth holdings of those in the lowest 20%, it would be dangerous to require people spending down on these meagre savings to get them through this crisis. This would place millions of people in extreme financial vulnerability, with little or nothing behind them to weather future shocks.


COVID-19 will likely further exacerbate income inequality due to the spike in unemployment, with the biggest job losses occurring in lower paid industries. Unless economic recovery strategies focus on job replacements in these areas, including women and young people, and provide an adequate income floor through social security, income inequality is likely to become more severe.

Wealth inequality has grown strongly over the last 15 years, with people in the highest 20% experiencing extraordinary average growth in wealth of 68%. This is in stark contrast to those in the lowest 20% whose net wealth grew by just 6%, while those in the middle experienced wealth growth of 36%.
ACOSS CEO, Cassandra Goldie, said:
"Timely action by the Government to double the unemployment payment with the Coronavirus Supplement and create JobKeeper has temporarily raised the household incomes of people without paid work or at risk of losing their jobs."
"This report shows however that millions of people, pre-COVID, had very little by way of a financial buffer behind them. There is a real danger in now expecting people to spend down on their already meagre savings, in order to survive. We need to support people's incomes to prevent against dramatically widening both income and wealth inequality and the serious health, economic and social disadvantage that occurs."
A few facts on income inequality (sourced from the ACOSS report)
In 2017-18:
The main household income source across all households is wages and salaries (with 78% of all income before tax), followed by 12% from investments, 5% from self-employment and 5% from social security.


Households in the highest 20% receive almost two-thirds investment income (65%), while those in the lowest 20% receive almost half (47%) of social security income.
In 2020:
The industries most affected by the pandemic were twice as likely to employ workers with less than high school qualifications than the least affected industries, according to Melbourne Institute research. Average weekly wages in the most affected industries were less than half (46%) of those in least affected industries, in part due to the high incidence of part-time employment in the former.


To date, households in the lower half of the income distribution have benefited substantially from the JobKeeper and COVID Supplement payments, offsetting all or some of the increase in earnings inequality from COVID-19 and the lockdowns.
Wealth inequality
In 2017-18:
Average wealth is relatively high and now exceeds $1 million for the first time ($1,026,000). Of this, 39% is the main home, 21% is superannuation, 20% is shares and other financial assets, 12% is investment real estate, and 9% is other non-financial assets such as cars.


However, wealth is distributed extremely unequally. The average wealth of the highest 20% of wealth-holders is $3,255,000 – over 90 times the wealth of the lowest 20% (with just $36,000).


The wealthiest 20% hold almost two-thirds of all household wealth (64%), more than all other households combined.


From 2003 to 2017, the average wealth of the highest 20% grew by 68% compared with 6% for the lowest 20%. This divergence has been driven by the asset types held by the top 20%: investment property, superannuation and shares. Eighty per cent of financial assets like shares and property investment are held by the highest 20% of wealth-holders.


At the bottom of the wealth ladder, the most valuable asset holdings of the lowest 20% are 'other non-financial assets' such as cars (48% of their wealth holdings) and superannuation (38%). At the top of the ladder, the wealthiest 20% hold relatively less of their wealth in the main home (34%) than those in the middle, and more of it in shares and other financial investments (26%) and investment property (15%).


The average superannuation wealth of the highest 20% is $496,000 – nine times that of the lowest 20% ($58,000). The top 20% hold 60% of the value of superannuation holdings.
Where to from here?
In releasing our FY20 results, Clime group CEO Rod Bristow made the following comments:
"The Commonwealth Government has done a good job so far of cushioning the economic impact of the health crisis. However, unless we start urgently on developing and implementing a coordinated policy approach and strategy for economic recovery, we are running real risks of economic problems for years to come".
"We seem to have overcome the stigma of conservative governments going into deficit. Now is time to use those deficits wisely and invest where resulting economic productivity gains will support the Australian economy well into the future. The short-term political cycle runs counter to this sort of thinking, requiring courage, leadership and vision to plan for economic recovery", Rod Bristow said.
Reducing inequality should be a future policy priority for Governments around the world, not just because it is the right thing to do but also because this will have broader economic benefits from a wider proportion of the population contributing to economic growth.
We end this article by once again quoting Professor Summers:
"I think we always come out of crises in a different path than the trendline we were on before the crisis. That was certainly true with what the New Deal left behind in America. That was certainly true coming out of the 1960s when we were left with a Medicare program; when we were left with a set of civil rights initiatives; when we were left with the environmental movement institutionalized into government… My hopes would certainly be that those would be new public policies that will ultimately be conservative in the sense that they will preserve our market-based democratic system; but in order to be ultimately conservative will be proximately bold in terms of extending the obligations of employers [and] in terms of changing the strength of the social safety net we have woven."
Learn more
Clime invests with a quality bias and a strong valuation discipline. Our approach seeks to deliver strong risk-adjusted returns by investing in a portfolio of high-quality Australian companies that are attractively priced, while assuming a lower level of total risk.

In developing our investment solutions, Clime considers multiple asset classes including Australian equities, global equities, fixed income, property, hybrid securities, debt and cash to focus on the best ideas and opportunities for our clients.