Sports has long been a part of Australia's national identity. By taking cues from elite athletes in their training programmes, investors could consider adopting a perseverant and consistent approach when they map out their long-term investing strategy (1).
One of Australia's most decorated swimming champions has reportedly2 said that she focuses on getting in a swim each day during her training. She also does a lot of pace work to prepare her body for the different types of swimming styles and strokes. And during competitions, she stays focused on what's she's doing in her lane.
Perseverance and consistency
Investors, based on their investment objectives and risk appetite, could take a similar approach to athletes in their day-to-day training, focusing on consistent and regular investing1. Athletes generally train regularly over the long term, and not just aggressively over a short period.
Athletes also have specific needs for strength and agility, and the training would vary according to their requirements. In order to be able to compete over longer distances some athletes would 'dial it back' and use a pace that they can sustain for a longer time3. Similarly, the same could be applied when investing for the long term. Investors could keep their financial goals in-check, invest regularly and stay invested1.
THE ROLE OF LONG-TERM INVESTING1
| | |
| --- | --- |
| | |
| Investing a fixed amount of money regularly can help reduce the impact of short-term market volatility on the overall investment in the long run. | A key reason to start early and stay invested is that this can help benefit from the compounding effect over a long period of time. |
Athletes could also face ups and downs in their athletic careers. Likewise for investing, where markets can always have a bad day, week, month or even year. Market volatility is normal, and investing can involve significant drawdowns from time to time. Investors should be aware of the volatility they can handle, but troubled times aren't a sign to sell everything.
What are the factors to consider when investing?
There are many investing options, but it's important to make choices that are aligned with your investment objectives and risk appetite. For goals with longer time frames, choose an investment strategy that allows you to take advantage of the longer investment horizon. Additionally, consider having some liquid short-term investments and cash to help you cover emergencies and upcoming large expenses so that you won't have to sell your investments during down markets.
Markets are unpredictable and no single asset class can be an all-time winner. A well-diversified portfolio can help manage risk while seeking consistent return opportunities4.
Looking at performance data for the past 70 years, as illustrated in the chart4, holding only equities has at times led to an almost 40% decline in value in any one year. However, adding bonds reduces the extent of that drawdown to 15%. Moreover, by increasing your investment horizon to five years, holding both bonds and equities minimised the drawdown to 1%.
Time, diversification and the volatility of returns4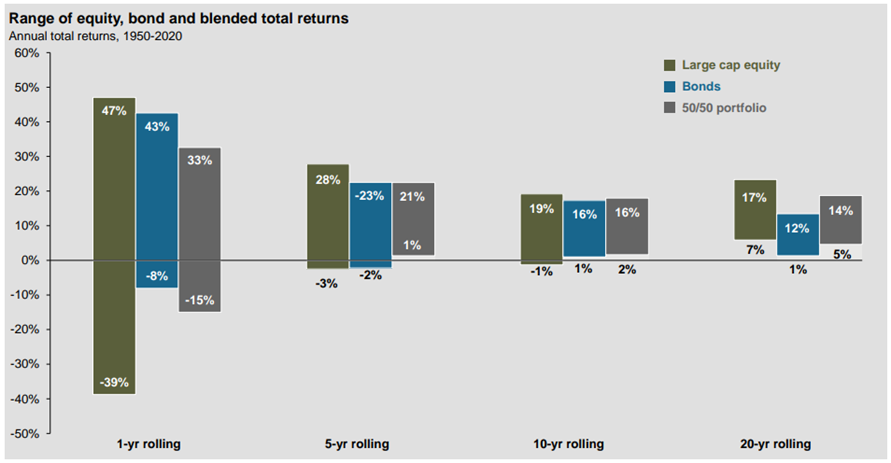 4. Source: Barclays, FactSet, Robert Shiller, Strategas/Ibbotson, U.S. Federal Reserve, J.P. Morgan Asset Management. For illustrative purpose only, indices do not include fees or operating expenses and are not available for actual investment. Returns shown are based on calendar year returns from 1950 to 2020. Large cap equity represents the S&P 500 Shiller Composite and bonds represents the Strategas/Ibbotson for periods from 1950 to 1980 and the Barclays Aggregate after index inception in 1980. Past performance is not a reliable indicator of current and future results. Data as of 30.09.2021.
Conclusion
Taking a cue from elite athletes as they train towards achieving their goals, investors could consider investing regularly and staying invested as they strive to achieve their financial objectives.
This content represents our investment team's current view and overall strategy provided for information only based on current market conditions not taking into consideration any specific investor's investment objective and risk appetite. Not to be construed as investment recommendation or advice.
Diversification does not guarantee investment return and does not eliminate the risk of loss.
1. For illustrative purposes only based on current market conditions, subject to change from time to time. Not all investments are suitable for all investors. Exact allocation of portfolio depends on each individual's circumstance and market conditions.
2. Source: "How Emma McKeon Became the Most Decorated Australian Athlete of All Time", MySwimPro, as of October 2021.
3. Source: "How to build Swim Endurance", My Chicago Athlete Magazine, 13.03.2018.
AU disclaimer
© 2021 All Rights Reserved - JPMorgan Asset Management (Australia) Limited ABN 55 143 832 080, AFSL No. 376919
The information provided on this website is general in nature only and does not constitute personal financial advice. The information has been prepared without taking into account your personal objectives, financial situation or needs. Before acting on any information on this website you should consider the appropriateness of the information having regard to your objectives, financial situation and needs. Therefore, before you decide to buy any product or keep or cancel a similar product that you already hold, it is important that you read and consider the relevant JPMorgan fund Product Disclosure Statement (PDS) and Target Market Determination,which are available to download on this website and make sure that the product is appropriate for you. Before making any decision, it is important for you to consider these matters and to seek appropriate legal, tax, and other professional advice.
Learn more
J.P. Morgan Asset Management is committed to understanding our clients' investment objectives and helping them build stronger portfolios.

Sharing our expertise

Supported by deep resources across regions and sectors, our global team of investment professionals take a research-driven approach to uncover opportunities and risks to help investors build stronger portfolios.

• 5,000+ annual on-site company visits (1)

Empowering better decisions

Our global team of market strategists takes the complexity out of markets, helping investors interpret key information and make the right investment decisions.

• Approx. 30 market strategists across the globe (1)

Building stronger portfolios

Our investment capabilities span a huge range of asset classes and regions. This enables us to offer a suite of solutions that can help investors diversify (2) their portfolios and achieve their individual investment goals in a variety of ways.

• Approx. 550 investment strategies (1)

Tapping into proven success

With nearly 150 years of investment experience, we have accumulated invaluable insights into what drives markets and how to empower investors to meet evolving needs — across asset classes, regions and market cycles.

• Approx. 150 years of investment experience (1)

Planning for the future you want to see

We take a forward-looking investment approach to deliver long-term sustainable financial return in a fast-changing world.

• A+ in the 2020 United Nations Principles for Responsible Investment (PRI) Assessment (3)

(1) Source: J.P. Morgan Asset Management. Data as of 31.3.2021. (2) Diversification does not guarantee investment returns and does not eliminate the risk of loss. (3) Source: J.P. Morgan Asset Management. Data as of July 2020. We report annually and are audited.