The COVID crisis took its toll on the yearly economic forum held at Jackson Hole, Wyoming.
Last week the forum's sessions were conducted by webcast and this created limited interest in what was actually said or discussed by the world's leading central bankers and economists.
The title for the symposium (hosted by the Federal Reserve Bank of Kansas City) may not have stirred the public's emotions – "Navigating the Decade Ahead: Implications for Monetary Policy", but the title did open the possibility of an announcement by the Chairman of the US Federal Reserve ("the Fed") concerning the management of US monetary policy.
Over the years, the symposium has been a place for central bankers to meet and compare notes or anecdotes, on the success or otherwise of each other's policy settings. On rare occasions, it has been a forum where directional change in monetary policy has been flagged by the US Fed Chairman. This year was one of those rare years.
Chairman Powell giving his speech … mask and hand sanitiser at the ready.
In his address, "New Economic Challenges and the Fed's Monetary Policy Review," Chairman Powell articulated a subtle change in monetary policy management in the US. In essence, Powell stated that no longer would an annual inflation rate of 2% be targeted by the Fed. Rather, it would target an average inflation rate of 2% over a longer period. He stated:
"However, if inflation runs below 2 percent following economic downturns but never moves above 2 percent even when the economy is strong, then, over time, inflation will average less than 2 percent. Households and businesses will come to expect this result, meaning that inflation expectations would tend to move below our inflation goal and pull realized inflation down. To prevent this outcome and the adverse dynamics that could ensue, our new statement indicates that we will seek to achieve inflation that averages 2 percent over time. Therefore, following periods when inflation has been running below 2 percent, appropriate monetary policy will likely aim to achieve inflation moderately above 2 percent for some time."
Therefore, from now on, the Fed may well let inflation move above 2% for an extended period and not respond (for some time) by adjusting cash rates. The Fed response will be tempered and will ensure that interests rates, which are already historically low, will stay compressed unless there is a sustained lift in inflation above 2%.
Source: US Bureau of Economic Analysis
That subtle change had an immediate effect on currency markets and below we will try to explain why that is so. Readers will have observed the solid rise in the AUD against the USD with some bank economists lifting their AUD target towards 80 US cents. Such a revaluation, if it did occur, would clearly not be positive for the Australian economy given we are in the midst of the worst economic downturn since the Great Depression of the 1930s. President Trump has always favoured a weaker USD because it allows the US to be more competitive.
US stocks are out-competing the rest of the world

Source: Bloomberg
However, we predict that the headwinds of a rising AUD will be met by a policy shift by the RBA. The likely policy shift will be twofold:
The RBA will adopt similar language (or policy) as the Fed. It too will adopt the "averaging of inflation" as its policy target (rather than aiming at a 2-3% band); and
The RBA will crank up QE "when necessary". We emphasise that phrase because a rising AUD will initially attract foreign speculative capital. However, when those capital flows reverse – and they will at some point – the RBA will have to defend the AUD bond market (see below).
So what does the averaging of inflation policy mean?
The recent history of long economic cycles was covered in the Powell speech. He took his listeners through the "high inflation cycle" of the 1970s and 1980s that was checked by the focus of Paul Volcker on "disinflationary" policies designed to snuff out price excesses with quick rate hikes.

This era was followed by the Greenspan years as Fed Chairman - an era of inflation stabilisation - which led to lower forward expectations of inflation of about 2%. This period is now referred to as the period of "Great (inflation) Moderation" although it ended abruptly with the "Global Financial Crisis" when Ben Bernanke was the Fed Chair.
As Powell noted:
"Before the Great Moderation, expansions typically ended in overheating and rising inflation. Since then, prior to the current pandemic-induced downturn, a series of historically long expansions had been more likely to end with episodes of financial instability, prompting essential efforts to substantially increase the strength and resilience of the financial system."
The change proposed by the Fed may not appear significant at first blush, but it heralds a more liberal approach to interest rate management that could be friendly to asset prices but diabolical for savers or for investors with cash on deposit.
As noted above, the policy change means that the Fed will no longer respond to short term inflation rises (above 2%) if it follows a period where inflation was below 2%. Given that US interest rates already have a negative "real" yield, the outlook is that bank deposits will not match inflation – at least during the new "inflation averaging era" and for however long it lasts!
Source: Bloomberg
This policy may result in the continued debasement of the purchasing power of USD currency. Importantly, it appears that the USD will not be supported by the interest rate settings of the Fed. That has led to the fall in the value of the USD across the world and resulted in the AUD (among other currencies) to rise against it. In turn, this has led to a broad consensus lift in leading bank economists' view of the outlook for the AUD – from US75 cents to over US80 cents.
The Australian Dollar versus the US Dollar – over 29 years (since 1991)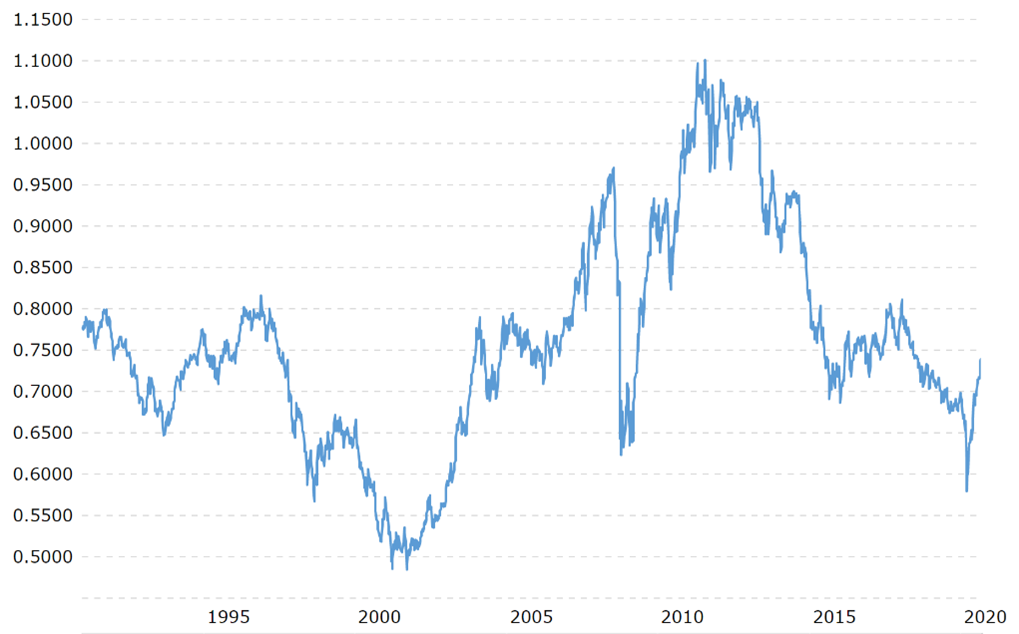 In forming their forecasts, most economists observe the present trend and adjust their view to either announcements or events. Rarely will they logically speculate on the necessary responses of central banks, regulators or governments that may move prices or values in the opposite direction.
Earlier in this edition of The View, we proffered two likely policy responses of the RBA that will be necessary to take the wind out of the AUD. These responses will be non-negotiable if the AUD were to spike above US75 cents and start to pressure the international income of Australian exporters, their profits and therefore the funding of Australia's massive fiscal deficit.
The RBA may well be confronted with the need to drop cash rates to zero (and even negative) because it is clear that neither the US Administration, the Fed or the Chinese have any concern in the setting of their economic policies on the consequences to Australia and our road to recovery.
The largest economies are showing that they are focused on their own economic needs and thus the RBA will need to be focused on ours. It should quickly acknowledge that it will beef up QE to ensure that bond yields remain depressed for years and that its cash settings will be as liberal as those of the Fed.
Does inflation and targeting inflation matter?
Whilst inflation clearly does matter, and more so if bank deposit rates do not match inflation, we can draw upon the Fed Chairman to explain the dual problems of both low inflation and low expectations of inflation. He stated in his speech:

"The persistent undershoot of inflation from our 2 percent longer-run objective is a cause for concern. Many find it counterintuitive that the Fed would want to push up inflation. After all, low and stable inflation is essential for a well-functioning economy. And we are certainly mindful that higher prices for essential items, such as food, gasoline, and shelter, add to the burdens faced by many families, especially those struggling with lost jobs and incomes. However, inflation that is persistently too low can pose serious risks to the economy. Inflation that runs below its desired level can lead to an unwelcome fall in longer-term inflation expectations, which, in turn, can pull actual inflation even lower, resulting in an adverse cycle of ever-lower inflation and inflation expectations"
The Fed's view is that whilst inflation is important to manage, it is equally important to manage inflationary expectations, to offset a deflationary loop. The deflationary loop will cause a delay in consumption if households believe that prices will fall or that their wages or assets will rise faster than inflation. Furthermore, deflationary expectations can slow investment in stock by businesses and more so if they fear a decline in stock value. The observations of stock builds and turns by business is crucial in determining real economic activity.
Thus, seemingly from this point, the Fed will not respond to any outbreak of inflation above 2% unless it is sustained. For how long must inflation be sustained before the Fed moves interest rates higher? The answer to that is unknown.
Our conclusion
As we noted above, the speech and the adjustment to policy by the Fed creates a concerning scenario for interest rates and the outlook for passive investments.

The Fed (and the RBA will no doubt follow) seems resolved to a policy whereby interest rates are held below inflation and they will not be adjusted in the face of mild moves in inflation. Negative real yields are here to stay.
The effect on asset markets, currencies and speculative assets will continue.
Quality equities and debt securities that generate real cashflow will be highly valued. Quality property with tenants that operate in sustainable industries will also be highly sought after. Speculation surrounding gold and other precious metals will be sustained as the USD is debased or devalued.
And our final thought is this: it may be that the Fed is admitting that it is bereft of real monetary policy ammunition to deal with an economy wracked with COVID, unemployment, a deep recession and massive Government debt.
Better to appear to be doing something rather than nothing. As George Bernard Shaw said, "A life spent making mistakes is not only more honourable, but more useful than a life spent doing nothing."
Learn more
Clime invests with a quality bias and a strong valuation discipline. Our approach seeks to deliver strong risk-adjusted returns by investing in a portfolio of high-quality Australian companies that are attractively priced, while assuming a lower level of total risk.

In developing our investment solutions, Clime considers multiple asset classes including Australian equities, global equities, fixed income, property, hybrid securities, debt and cash to focus on the best ideas and opportunities for our clients.