We share our best ideas on how to create a diversified fixed income portfolio in the current environment.
Key takeaways:
The global economy will likely stay on the road to recovery and the emergence of new variant Omicron is unlikely to derail growth. Over the course of the year, inflation could decelerate.


Our Global Fixed Income, Currency & Commodities (GFICC) team's high-convictions1 for fixed income include US and Euro high-yield bonds2, leveraged loans and bank additional tier-1 (AT1) securities.
Our GFICC team3 believes that central bank policy, global growth and inflationary pressures have reached a major inflection point. Investors, based on individual investment objectives and risk appetite, could consider a diversified suite of income sources with active short duration4 management.
How transitory is inflation and what does it mean for central banks?
We expect global growth has peaked and may decelerate in 2022. Gross domestic product (GDP) is expected to settle in at 4% in the US and 4.5% globally over the second half of 2022, supported by the employee's return to job market, inventory rebuild and China's credit impulse, which measures the growth of new financing as a part of its gross domestic product.
Though high demand for goods, rising wages and home prices are pushing US inflation higher, we expect to see a peak in inflation in the first quarter before going down to 2.25%-2.5% on core personal consumption expenditure (PCE) by end-2022 as some signs of easing good supply constraints have emerged. The Reserve Bank of Australia (RBA) holds the view5 that while inflation has picked up, it remains low in underlying terms. Inflation pressures are also less than they are in many other countries, not least because of the only modest wages growth in Australia.
Central bank policy rates and market expectations6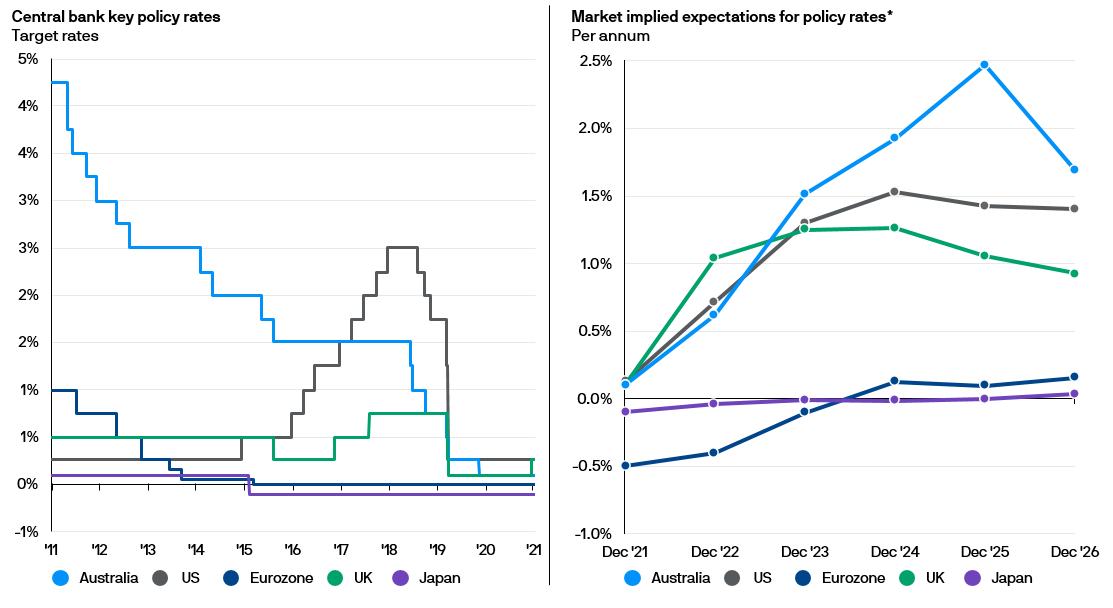 6. Source: J.P. Morgan Asset Management; (Left) Bank of Japan, European Central Bank, FactSet, Reserve Bank of Australia, US Federal Reserve; (Right) Bloomberg L.P. *Expectations are derived from the 3-month moving average of the overnight index swap (OIS) forward rates. Past performance is not a reliable indicator of current and future results. Forecasts and estimates are indicative, may or may not come to pass. Data as of 31.12.2021.
The Federal Reserve (Fed) is tapering its large-scale asset purchases and the beginning of first rate hike could ease inflation gradually. Both the Bank of England and Bank of Canada are likely to start raising rates ahead of the Fed while the European Central Bank has signaled its first rate hike is likely in 2023. The RBA has stated it will not increase the cash rate until actual inflation is sustainably within the 2-3% target range5.
How we are optimising opportunities
Despite 10-year US Treasury yields moving up in the first half of 2022, bond opportunities can still be found with active management. As such, we prefer short-duration bonds1, 4 compared with long-end debt as interest rates will likely rise.


As part of the overall portfolio allocation, corporate credit1 remains our top conviction sector, supported by strong corporate earnings and companies' ability to pass on rising input costs. We prefer US, Euro high yield2, leveraged loans and bank AT1 securities1.


Short-duration securitised credit7 is also a sector we have a preference for as the ability of consumers to service their borrowing costs looks sound over the near term.
This content represents our GFICC team's current view and overall strategy provided for information only based on current market conditions not taking into consideration any specific investor's investment objective and risk appetite. Not to be construed as investment recommendation or advice.
Diversification does not guarantee investment return and does not eliminate the risk of loss.
1. For illustrative purposes only based on current market conditions, subject to change from time to time. Not all investments are suitable for all investors. Exact allocation of portfolio depends on each individual's circumstance and market conditions.
2. High-yield credit refers to corporate bonds which are given ratings below investment grade and are deemed to have a higher risk of default. Yield is not guaranteed. Positive yield does not imply positive return.
3. Source: J.P. Morgan Asset Management's GFICC Investment Quarterly Meeting (IQ Mtg). As of 08.12.2021. Opinions, estimates and forecasts may or may not come to pass. Provided for information only. These represent GFICC team's views under normal market conditions subject to change from time to time.
4. Duration is a measure of the sensitivity of the price (the value of the principal) of a fixed income investment to a change in interest rates and is expressed as number of years.
5. Source: "Statement by Philip Lowe, Governor: Monetary Policy Decision", the Reserve Bank of Australia, 7 December 2021.
7. Securitisation is the process in which certain type of assets, such as mortgages or other types of loans, are pooled so that they can be repackaged into interest-bearing securities. Examples of securitised debt include asset-backed securities and mortgage-backed securities.
© 2022 All Rights Reserved - JPMorgan Asset Management (Australia) Limited ABN 55 143 832 080, AFSL No. 376919
The information provided on this website is general in nature only and does not constitute personal financial advice. The information has been prepared without taking into account your personal objectives, financial situation or needs. Before acting on any information on this website you should consider the appropriateness of the information having regard to your objectives, financial situation and needs. Therefore, before you decide to buy any product or keep or cancel a similar product that you already hold, it is important that you read and consider the relevant JPMorgan fund Product Disclosure Statement (PDS) and Target Market Determination,which are available to download on this website and make sure that the product is appropriate for you. Before making any decision, it is important for you to consider these matters and to seek appropriate legal, tax, and other professional advice.
Learn more
J.P. Morgan Asset Management is committed to understanding our clients' investment objectives and helping them build stronger portfolios.

Sharing our expertise

Supported by deep resources across regions and sectors, our global team of investment professionals take a research-driven approach to uncover opportunities and risks to help investors build stronger portfolios.

• 5,000+ annual on-site company visits (1)

Empowering better decisions

Our global team of market strategists takes the complexity out of markets, helping investors interpret key information and make the right investment decisions.

• Approx. 30 market strategists across the globe (1)

Building stronger portfolios

Our investment capabilities span a huge range of asset classes and regions. This enables us to offer a suite of solutions that can help investors diversify (2) their portfolios and achieve their individual investment goals in a variety of ways.

• Approx. 550 investment strategies (1)

Tapping into proven success

With nearly 150 years of investment experience, we have accumulated invaluable insights into what drives markets and how to empower investors to meet evolving needs — across asset classes, regions and market cycles.

• Approx. 150 years of investment experience (1)

Planning for the future you want to see

We take a forward-looking investment approach to deliver long-term sustainable financial return in a fast-changing world.

• A+ in the 2020 United Nations Principles for Responsible Investment (PRI) Assessment (3)

(1) Source: J.P. Morgan Asset Management. Data as of 31.3.2021. (2) Diversification does not guarantee investment returns and does not eliminate the risk of loss. (3) Source: J.P. Morgan Asset Management. Data as of July 2020. We report annually and are audited.