We have changed our asset class views in light of the prospect of additional U.S. fiscal support, climbing inflation expectations and rising U.S. Treasury yields.
Investment themes
The new nominal
We see a more muted response of government bond yields to stronger growth and higher inflation than in the past, as central banks lean against any sharp yield rises. This should support risk assets. Strategic implication: We favour inflation-linked bonds amid inflationary pressures in the medium term.
Globalisation rewired
Covid-19 has accelerated geopolitical transformations such as a bipolar U.S.-China world order and a remaking of global supply chains, placing greater weight on resilience – even at the expense of efficiency. Strategic implication: We favour deliberate country diversification and above-benchmark China exposures.
Turbocharged transformations
The pandemic has added fuel to pre-existing structural trends such as an increased focus on sustainability, rising inequality within and across nations, and the dominance of e-commerce at the expense of traditional retail. Strategic implication: We see developed market equities as best positioned to take advantage of a climate transition.
Vaccine-led restart
Our new nominal theme – which flags a more muted response in nominal government bond yields to rising inflation than in the past – has played out since last year. Inflation-adjusted yields, or real yields, have fallen further into negative territory as a result. Additional fiscal spending could turbocharge a vaccine-led economic restart later this year – one that we believe may exceed market expectations.
Activity in many services sectors is already compressed with less room to decline further. Businesses have also adapted to an environment of social distancing, allowing operations to continue. Consensus expectations of the size of the shock have been revised down materially, particularly for the euro area. Vaccine rollouts are likely to stoke a sharper-than-anticipated rebound.
A different shock
We see pent-up demand in contact-intense services rebounding sharply once restrictions lift in the U.S. and euro area – as seen in China, and supported by the accumulation in personal savings.
U.S. consumers have built up a savings buffer equivalent to more than 12% of annual consumer spending over the past year, as the chart shows.
Not only is the policy response this time far more overwhelming, but a large part of economic activity will restart on its own once the pandemic is under control, in our view. This is a key difference with the Global financial crisis (GFC). The objective of the current policy response has been different: it is not to stimulate growth, but to provide a bridge to the post-Covid world.
U.S. disposable income vs consumer spending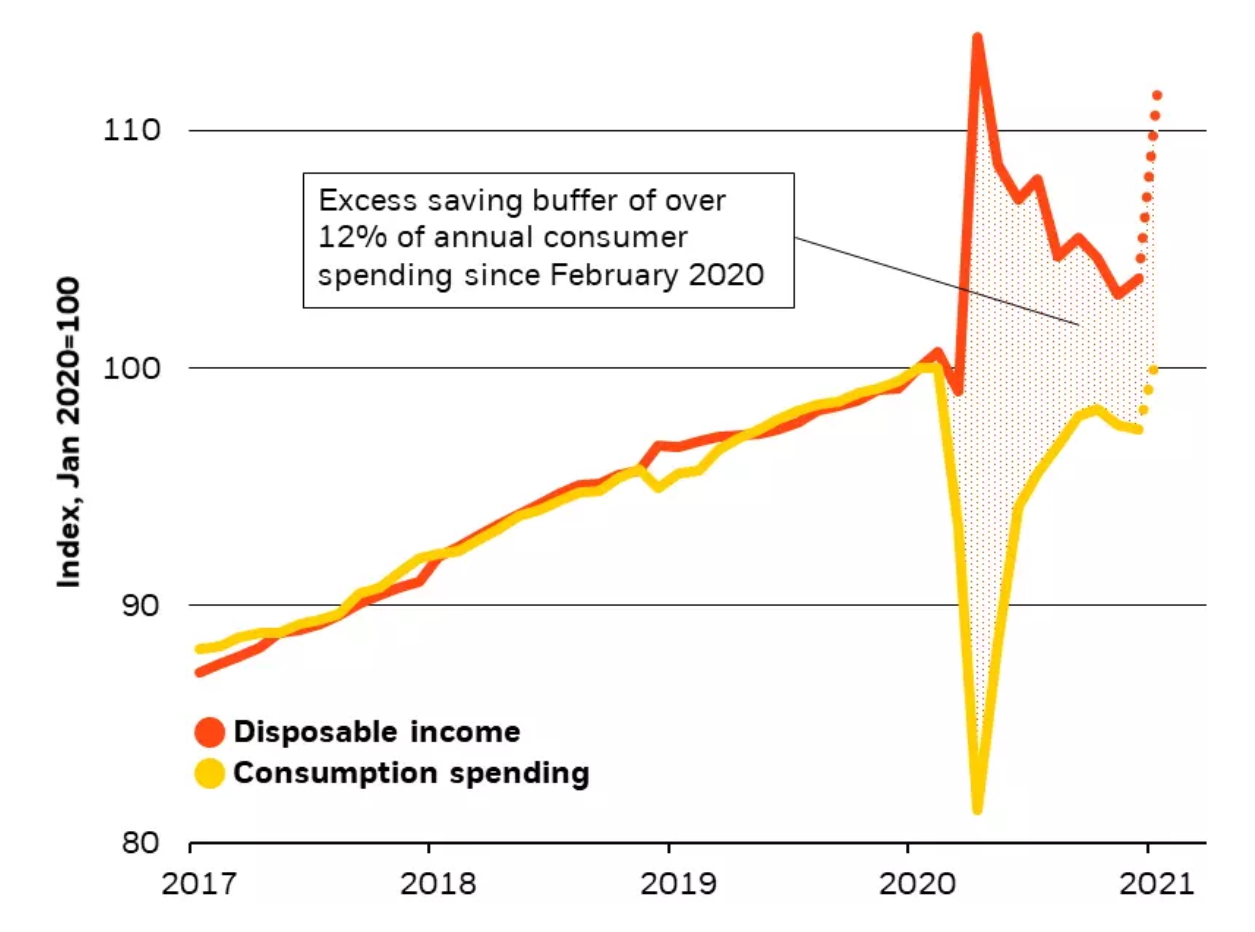 Source: BlackRock Investment Institute, Bureau of Economic Analysis, U.S. Treasury Department, Opportunity Insights, Bureau of Labor Statistics, Eurostat, with data from Haver Analytics, February 2021. Notes: The chart shows U.S. nominal household disposable income (orange line) and nominal personal consumer spending (yellow line). Data for January 2021 are forecasts based on data from the Daily Treasury Statement, U.S. Employment Situation Report and weekly card spending data.

Shifting expectations
Policymakers, academics, taxpayers and markets have been surprisingly relaxed about the large increase in debt – also a stark contrast to the aftermath of the GFC, when the focus shifted to austerity.
Record-low debt servicing costs help explain more sanguine attitudes to high public debt levels. Public debt in the U.S. is set to reach a record 135% of GDP, according to IMF forecasts. This is twice as high as in the 1990s, but financing costs are only half what they were then. How long will the tolerance of high debt – and the low-yield regime – last? For now we see the new nominal theme at play: a more muted response in nominal government bond yields to rising inflation.
Central banks have committed to look through above-target inflation for a while. They may find it politically fraught to raise rates, even if inflation starts to look more concerning. The scars from 2013's "taper tantrum," against a backdrop of even higher indebtedness, also create inertia. And if a tantrum were to occur, central banks would quickly be forced to lean against it, in our view. This is why we have conviction the new nominal regime will last for some time – and are tactically pro-risk.
Stable and negative real yields support our pro-risk stance
Rising U.S. 10-year yields reflect the repricing higher of inflation expectations. We believe central banks have strong incentives to lean against any rapid rise in nominal yields. Yet we still see gradual increases in yields as markets price in a rapid economic restart supported by fiscal stimulus. We underweight U.S. Treasuries as a result.
U.S. 10-year Treasury yield, breakeven inflation and real yields vs. BlackRock estimate, Feb. 2021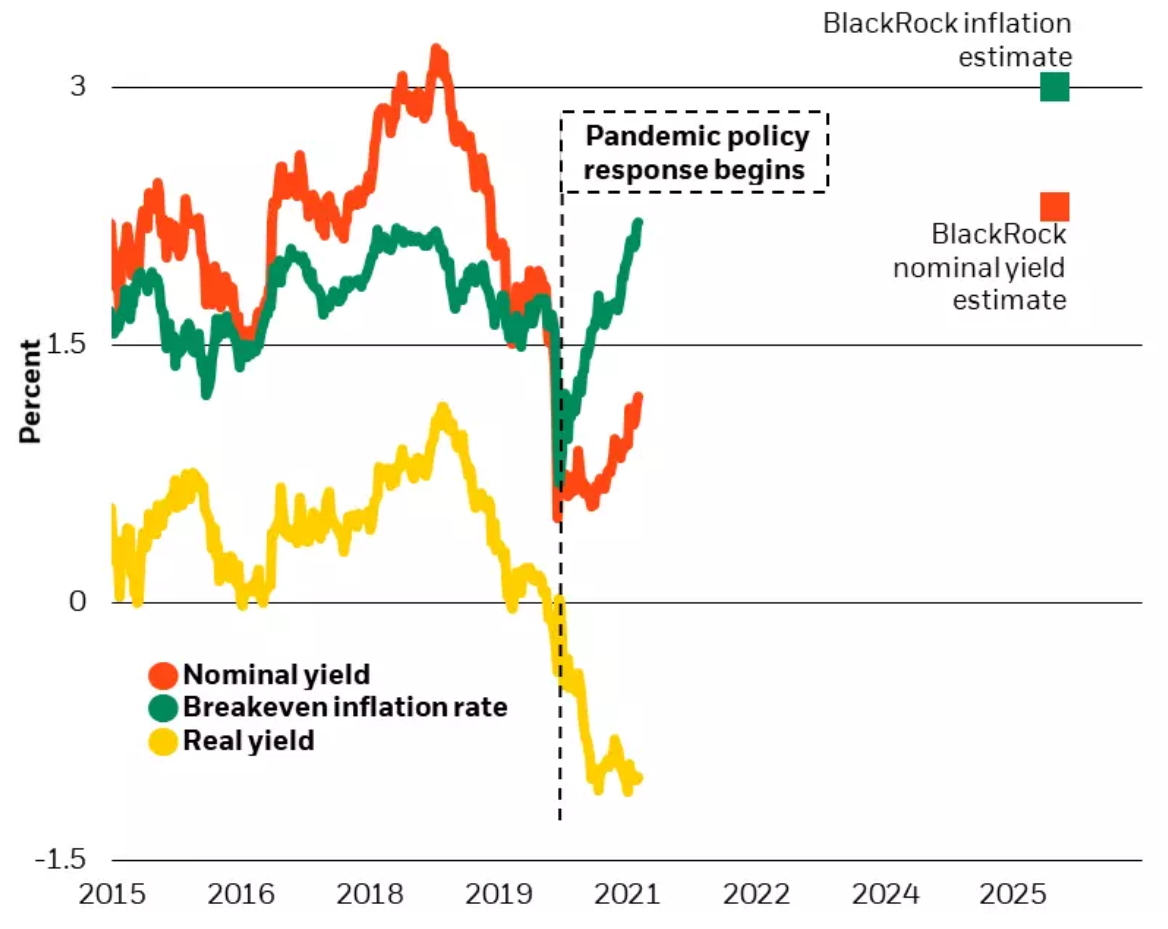 Source: BlackRock Investment Institute and Refinitiv Datastream, data as of 15 February 2021. Notes: The chart shows the U.S. 10-year Treasury yield and the pricing of Treasury inflation protected securities – the 10-year TIPS yield, or real yield, and the breakeven inflation rate, or the future rate of inflation being priced by markets in TIPS. The chart also shows our 5-year ahead expected values for U.S. 10-year nominal yields using the Bloomberg Barclays U.S. Government bond index as a proxy and our estimates for 10-year average inflation from Dec 2026-2036. Forward looking estimates may not come to pass. Past performance is not a reliable indicator of current or future results. Indexes are unmanaged and do not account for fees. It is not possible to invest directly in an index.

The bottom line
We broaden our tactical pro-risk stance in light of major developments since the publication of our 2021 outlook in December: the vaccine rollout and up to $2.8 trillion of additional U.S. fiscal spending this year. Inflation expectations have risen sharply while real rates are steady in negative territory. We prefer equity over credit and turn underweight government bonds – in line with our strategic views.
Learn more
Investment Expertise, Simply Delivered.

We want to help you achieve your investment goals and believe that the best way to do that is to offer a selection of actively managed multi-asset portfolios.

Building our portfolios with iShares ETFs means that investors can gain the potential benefits of asset allocation with underlying investments that closely follow an index.

Our model portfolios are constructed to optimally balance long–term returns, risks, and costs as per the objective of the four risk profiles. As a result, each portfolio has a unique objective, offering exposures to various asset classes, industry sectors, style factors, currencies, and geographies.

Reviews and Rebalancing

Our model portfolios are constructed and supported by a global team of investment strategists and monitored by BlackRock's sophisticated risk-management engine, Aladdin – the same technology used by some of the most sophisticated investors and institutions around the world.

The portfolio asset allocations are reviewed regularly and rebalanced where appropriate, as per the objective of each model. This is to ensure that the portfolios remain optimally balanced for risk, return, and cost.

*As of June 30, 2021, the firm managed approximately USD$9.5 trillion in assets on behalf of investors worldwide.