We see Australia's policymakers - including the newly elected Labor government - facing a challenging near-term economic path: higher inflation amid a slowing global economy.
The Reserve Bank of Australia (RBA), like its peers in other developed economies, is confronted by a difficult policy trade-off, in our view, between choking off growth via sharply higher rates or living with supply-driven inflation. Australia emerged from the Covid pandemic relatively well.
A strong fiscal and monetary response cushioned the hit to activity and incomes. Yet the outlook for the economy and domestic markets depends on three key factors: the post-pandemic restart and policy response to inflation, the impact on consumption from higher interest rates hitting heavily indebted households, and continuing impact from China's ongoing Covid-related slowdown.
Market and macro backdrop
Like most developed economies this year, Australia has seen a rapid repricing higher of interest rates - both nominal and real. Spreads of Australian 10-year government bonds relative to the U.S. have gone from -20 basis points just last September to close to +50 basis points, according to Refinitiv data as of May 26, amid a sharp selloff in bonds globally. Australian equities have been relative outperformers so far this year – with the benchmark ASX 200 down just 2.8% relative to 13% slide for the S&P 500 and MSCI All World indexes, according to data from Refinitiv as of June 1. One reason for this outperformance, in our view, has been the heavy concentration of financials and materials sectors – beneficiaries of rising rates and commodity prices respectively.

Eyes on the consumer
Looking forward, the onus around near-term GDP growth rests on the shoulders of consumers, in our view. One risk to monitor is the impact on consumer sentiment – and spending – from higher interest rates. Australian consumer sentiment already slumped to the lowest levels since the Covid-affected levels in August 2020, according to official data released earlier this month.
Australian households are some of the most indebted in the world. See chart. The bulk of the debt has been taken-on to purchase residential housing. Unlike many countries following the Great Financial Crisis (GFC), Australian households never really deleveraged to any extent, and in each successive cycle to lower interest rates, have leveraged further into cheaper debt. Such leverage makes the prospective interest rate hikes that markets forecast quite aggressive, in our view.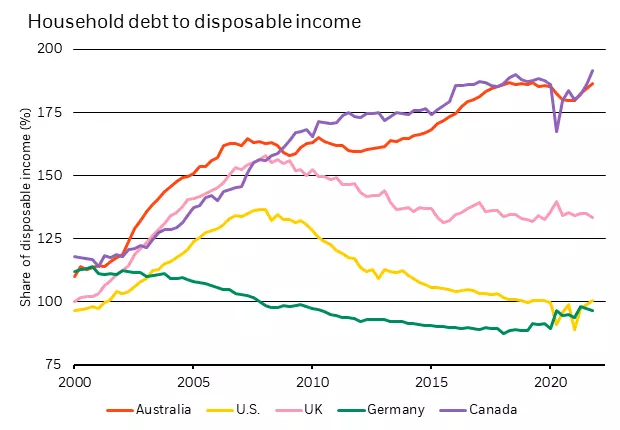 Sources: BlackRock Investment Institute, with data from Refinitiv Datastream, June 2022. Notes: The chart shows the ratio of household debt to disposable income across selected developed economies.
Trade with China
Another risk to the outlook is the potential impact of China's Covid-related lockdowns. Australia's economy has been among the major beneficiaries of China's growth – particularly its demand for commodities – over the past few decades. In line with the global trend of greater geopolitical fragmentation, we believe Australia will also experience disruptions to global supply chains, a rethinking of alliances, and diversifying geographical dependencies which all point to an ongoing rewiring of globalisation that investors will have to account for in coming years. For Australia, this would mean further diversifying its trade partners to drive its economy. Australian exports to China haven't been adversely impacted yet but it is something we are closely monitoring.
Bottom line:
We are cautious on the outlook for equities in the near term and see opportunities in the short end of the yield curve where the market may be pricing in too much monetary policy tightening that the RBA ultimately will likely find difficult to deliver. In relative terms, we find the long end of the Australian yield curve more attractive than other developed markets on account of recent underperformance and more aggressive front-end rate pricing. Longer-term, we see Australia well positioned as a commodity exporter in a higher inflation regime.
Learn more
Investment Expertise, Simply Delivered.

We want to help you achieve your investment goals and believe that the best way to do that is to offer a selection of actively managed multi-asset portfolios.

Building our portfolios with iShares ETFs means that investors can gain the potential benefits of asset allocation with underlying investments that closely follow an index.

Our model portfolios are constructed to optimally balance long–term returns, risks, and costs as per the objective of the four risk profiles. As a result, each portfolio has a unique objective, offering exposures to various asset classes, industry sectors, style factors, currencies, and geographies.

Reviews and Rebalancing

Our model portfolios are constructed and supported by a global team of investment strategists and monitored by BlackRock's sophisticated risk-management engine, Aladdin – the same technology used by some of the most sophisticated investors and institutions around the world.

The portfolio asset allocations are reviewed regularly and rebalanced where appropriate, as per the objective of each model. This is to ensure that the portfolios remain optimally balanced for risk, return, and cost.

*As of June 30, 2021, the firm managed approximately USD$9.5 trillion in assets on behalf of investors worldwide.