Return-to-the-office (RTTO) is a new buzzword for most workers after months of working from home. Virtual meetings have become the norm, alongside more disruptive solutions such as artificial intelligence (AI) or smart bots at the workplace.
Smart bots in action
Digital transformation is bringing in new tools at work. Increasingly, we are seeing the application of AI and cloud computing in the workplace.

Increased awareness of the importance of hygiene amid the global public health crisis has raised demand for AI-powered cleaning and disinfection robots in offices, malls and other public spaces2.
9a.m. as you RTTO …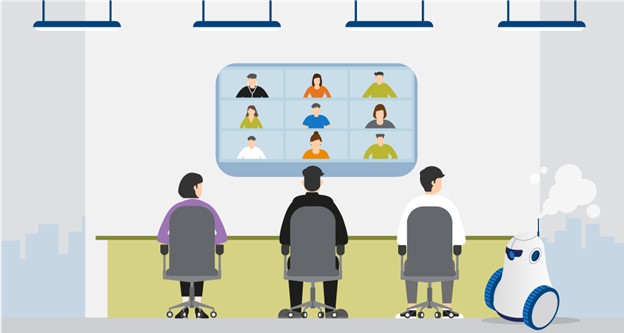 In the logistics industry, for example, there are already robots packing, conveying and lifting goods, and where feasible, delivering the packages to customers3. The embedded advanced technologies and use of AI-algorithms are allowing some companies to ensure safer handling and delivery, or even doing tasks that once could either not be done or would take months. Similarly, bots in the hospitality sector are already preparing and delivering food and drinks to the tables.
Amid increased funding on robotics research, the global robotics market could grow from 2020's US$25 billion to as much as US$260 billion by 2030, with market share for professional services robots topping about US$170 billion and industrial and logistics robot sales topping at about US$80 billion4. This could have lasting impact in a smart workplace, while presenting long-term growth opportunities.
Smart bots at the desk
Robotic automation isn't limited to factory floors or warehouses. Robotic process automation is also in the office, with the focus being on software4.
10a.m. general enquiry conducted on chatbot …
Generally, AI chatbots use natural language processing (NLP) to help users to interact with web services or apps through text, graphics or speech.
For example, some human resource functions may now be performed by an AI chatbot that can help address general enquiries. Chatbots are also being used to automate certain tasks with clients, freeing up time for employees to focus on formulating strategies and product development, or tasks that can only be done by humans.
Overall, an improved customer experience combined with a reduction in costs could help to enhance return on investment in the long run for companies that use chatbots for some of the work and services.
As corporate digital transformation gets underway, enterprise software market leaders could benefit from demand and adoption. And with AI increasingly deployed across all markets, semiconductor companies are also riding on the growth for data centres and professional visualisation platforms.
Conclusion
Digital transformation is bringing about changes in the workplace and some companies are reinventing as they adapt to this evolving environment. A bottom-up active strategy focusing on disruptive trends could help investors seek structural growth opportunities while avoiding those companies less able to adapt to change.
This content represents our investment team's current view and overall strategy provided for information only based on current market conditions not taking into consideration any specific investor's investment objective and risk appetite. Not to be construed as investment recommendation or advice.
Diversification does not guarantee investment return and does not eliminate the risk of loss.
1. For illustrative purposes only based on current market conditions, subject to change from time to time. Not all investments are suitable for all investors. Exact allocation of portfolio depends on each individual's circumstance and market conditions.
2. Source: "Hong Kong Airport is using virus-killing robots to disinfect public areas", Business Traveller, 05.04.2020.
3. Source: "Automation in logistics: Big opportunity, bigger uncertainty", McKinsey & Company, 29.04.2019.
4. Source: "Robotics Outlook 2030: How Intelligence and Mobility Will Shape the Future", Boston Consulting Group, 28.06.2021.
The information provided is general in nature only and does not constitute personal financial advice. The information has been prepared without taking into account your personal objectives, financial situation or needs. Before acting on any information you should consider the appropriateness of the information having regard to your objectives, financial situation and needs. Therefore, before you decide to buy any product or keep or cancel a similar product that you already hold, it is important that you read and consider the relevant JPMorgan fund Product Disclosure Statement (PDS) and Target Market Determination (available from www.jpmorganam.com.au), which is available to download on this website and make sure that the product is appropriate for you. Before making any decision, it is important for you to consider these matters and to seek appropriate legal, tax, and other professional advice. Issued by JPMorgan Asset Management (Australia) Limited ABN 55 143 832 080, AFSL No. 376919.
Learn more
J.P. Morgan Asset Management is committed to understanding our clients' investment objectives and helping them build stronger portfolios.

Sharing our expertise

Supported by deep resources across regions and sectors, our global team of investment professionals take a research-driven approach to uncover opportunities and risks to help investors build stronger portfolios.

• 5,000+ annual on-site company visits (1)

Empowering better decisions

Our global team of market strategists takes the complexity out of markets, helping investors interpret key information and make the right investment decisions.

• Approx. 30 market strategists across the globe (1)

Building stronger portfolios

Our investment capabilities span a huge range of asset classes and regions. This enables us to offer a suite of solutions that can help investors diversify (2) their portfolios and achieve their individual investment goals in a variety of ways.

• Approx. 550 investment strategies (1)

Tapping into proven success

With nearly 150 years of investment experience, we have accumulated invaluable insights into what drives markets and how to empower investors to meet evolving needs — across asset classes, regions and market cycles.

• Approx. 150 years of investment experience (1)

Planning for the future you want to see

We take a forward-looking investment approach to deliver long-term sustainable financial return in a fast-changing world.

• A+ in the 2020 United Nations Principles for Responsible Investment (PRI) Assessment (3)

(1) Source: J.P. Morgan Asset Management. Data as of 31.3.2021. (2) Diversification does not guarantee investment returns and does not eliminate the risk of loss. (3) Source: J.P. Morgan Asset Management. Data as of July 2020. We report annually and are audited.