Stocks saw a record crash followed by a record rebound in 2020, creating some disparity between markets, as Simon Doyle explains.
The global stock market crashed at a record speed in early 2020 (Figure 1).
On its way to a total decline of 34%, it clocked up a 30% loss in just 40 trading days.
This is faster than any global stock market crash in at least the last 48 years that we have daily data on global stock market returns for.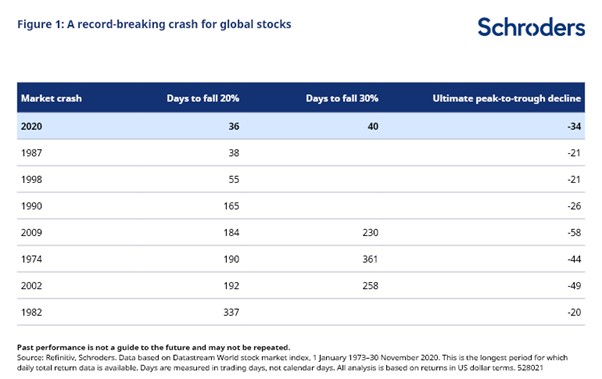 A record breaking rebound
Astonishingly, in the eight months since, it has rebounded by 62%. The losses from this record-breaking crash were fully recovered by 23 August, only five months after the market bottomed and while the global economy was still deep in a quagmire. Since then it has sailed even higher, most recently on the back of positive vaccine news. The global stock market is now almost 8% above its pre-crash peak.
The crash was unusually severe in a historical context, and this recovery has been equally, if not more, extraordinary (Figure 2). Falls of this magnitude normally take years to recover from. On the previous three occasions when the market has fallen by more than 30%, it has taken nearly three years or longer for losses to be recovered. On average, a decline of 20% of more has taken two years to recover. Five months is unheard of.
The closest precedents are 1982 and 1998, when losses of around 20% were made up in only three months. However, to recover from a 20% decline, the market has to rise by 25%. To recover from a 34% decline, it has to rise by 52%. 1982 and 1998's achievements pale into insignificance when compared in this way.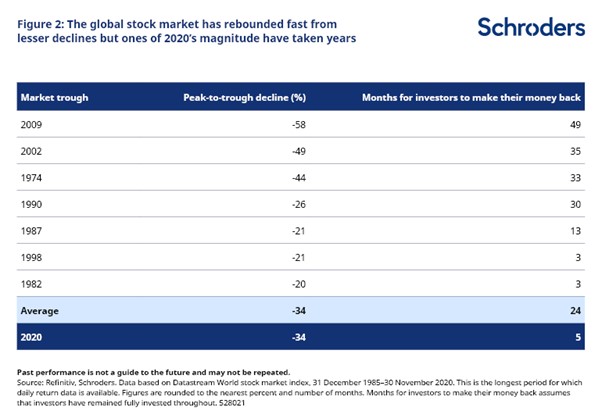 Why has it been so strong?
History may be less useful than normal in working out what should have been expected of equity markets in 2020. We have to remember that the strength of the response from central bankers and politicians this year has been unparalleled. Governments have underwritten loans to companies and paid furloughed workers' wages. Central banks have injected tremendous amounts of liquidity into the financial system. We have never before seen support on this scale.
Equity markets are looking through the current malaise to an anticipated rebound in activity next year and the one after. That is why equity markets have recovered so strongly.
But the recovery has been uneven
While the headline global figures paint a picture of buoyant equity markets, there has been tremendous variation between regions (Figure 3). Chinese stocks are up 25% this year and are 20% higher than their level before the crash in the first quarter. Emerging market equities in general have performed very strongly.
Within developed markets, the US has shone brightly, while Japan has also more than made up all of the losses it incurred. Eurozone equities have fared worse but are closing in on their breakeven point for the year.
It is the UK which really stands out as a laggard. It is still deeply underwater compared with its pre-crash peak. Investors are nursing losses of 16% this year. That's quite the spread compared with the +17% the US market has delivered.
Why? Well, Brexit cannot be ignored, as that risk continues to influence international investors' perceptions of the UK market. The UK also entered the year with a relatively large allocation to commodity sectors, which have fared poorly. And it has lacked the tech superstars that have been powering the US market higher (US stocks would be down for the year were it not for the big five of Facebook, Amazon, Microsoft, Apple, and Google).
One positive side-effect of this underperformance is that UK stocks are now cheaply valued compared with global peers. At such depressed pricing, it doesn't have to take much in the way of better news for the UK market to start making up some of that lost ground on global peers. As always, past performance, in this case, poor past performance, might not be a very good indication of future performance.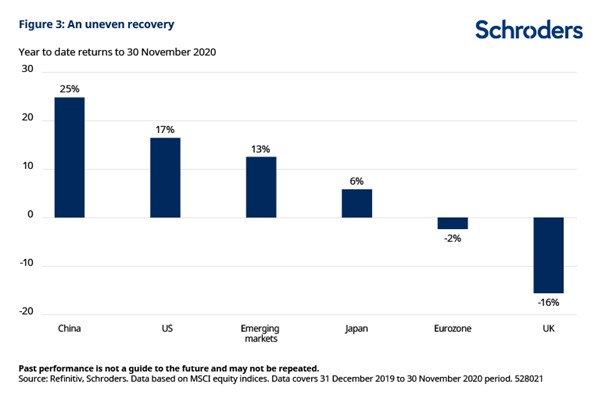 This information is not an offer, solicitation or recommendation to buy or sell any financial instrument or to adopt any investment strategy. Any references to securities, sectors, regions and/or countries are for illustrative purposes only.
The value of investments and the income from them may go down as well as up and investors may not get back the amounts originally invested. Past performance is not a guide to future performance and may not be repeated.
This is an article originally written by Duncan Lamont, Head of Research and Analytics at Schroders.
Important Information:
This material has been issued by Schroder Investment Management Australia Limited (ABN 22 000 443 274, AFSL 226473) (Schroders) for information purposes only. It is intended solely for professional investors and financial advisers and is not suitable for distribution to retail clients. The views and opinions contained herein are those of the authors as at the date of publication and are subject to change due to market and other conditions. Such views and opinions may not necessarily represent those expressed or reflected in other Schroders communications, strategies or funds. The information contained is general information only and does not take into account your objectives, financial situation or needs. Schroders does not give any warranty as to the accuracy, reliability or completeness of information which is contained in this material. Except insofar as liability under any statute cannot be excluded, Schroders and its directors, employees, consultants or any company in the Schroders Group do not accept any liability (whether arising in contract, in tort or negligence or otherwise) for any error or omission in this material or for any resulting loss or damage (whether direct, indirect, consequential or otherwise) suffered by the recipient of this material or any other person. This material is not intended to provide, and should not be relied on for, accounting, legal or tax advice. Any references to securities, sectors, regions and/or countries are for illustrative purposes only. You should note that past performance is not a reliable indicator of future performance. Schroders may record and monitor telephone calls for security, training and compliance purposes.
Learn more
Established in 1961, Schroders in Australia is a wholly owned subsidiary of UK-listed Schroders plc. Based in Sydney, the business manages assets for institutional and wholesale clients across Australian equities, fixed income and multi-asset and global equities.

Schroders believes in the potential to gain a competitive advantage from in-house global research; that rigorous research will translate into superior investment performance. We believe that internal analysis of investment securities and markets is paramount when identifying attractive investment opportunities. Proprietary research provides a key foundation of our investment process and our world-wide network of analysts is one of the most comprehensive research resources dedicated to funds management.

Areas of expertise:
• Australia equities
• Fixed income
• Multi-asset
• Global equities

Why Schroders?

With a global network of researchers, we focus on serving our clients and targeting one result - superior investment performance.

Inherent in our approach to investment management is:
• A structured, disciplined and repeatable investment process
• A clearly defined investment style
• A team approach to investment management

A global asset manager

• We have responsibility for A$803.1 billion of assets* on behalf of institutional and retail investors, from around the world. Their assets are invested across equities, fixed income and alternatives.

• We employ over 4700 people worldwide who operate from 41 offices in 30 different countries across Europe, the Americas, Asia and the Middle East.

• We are close to the markets in which we invest and our clients.

• Schroders has developed under stable ownership for over 200 years. Long-term thinking governs our approach to investing, building client relationships and growing our business.

*Source: All data as at 30 June 2018