Technology stocks have been on a tear. They seem unstoppable and the investor sentiment around them is one of euphoria.
It doesn't matter what company, how unprofitable, how unsustainable or how ludicrous the business proposition, blind optimism seems to be the only response. If a factual opinion is proposed, a common response is the 'Amazon Defence'.

The sequence of events tends to go like this:
1.
Company X claims to be a disruptor (it's probably a 'software as a service' company)
2.
For years, they burn cash in their pursuit of growth
3.
Losses keep growing, but they become a mature business
4.
They need to raise capital, so file for an IPO
5.
Crazy valuation ensues.
At this point someone asks the obvious, "Will Company X struggle to turn a profit, let alone survive?"
The inevitable response is the 'Amazon Defence': "Amazon was making losses for years before it turned a profit. Look at it now. Company X is just running the Amazon model."
The classic mistake that investors are making is confusing a great story or even a good business for a good investment. The issue with the 'Amazon Defence' is that it doesn't say anything about the current investment case for the company.
Company X might be exciting. Company X may have a compelling story. Company X might disrupt an industry. Company X may be another Amazon. But none of this says anything about the current investment case. None of this says anything about what we know is one of the key drivers of future investment returns – the price you pay.
There is 150 years of evidence in stock market data that looks at future returns relative to cyclically adjusted valuations. What it demonstrates, quite simply, is that, on average, the lower the price you pay, the higher the return you get.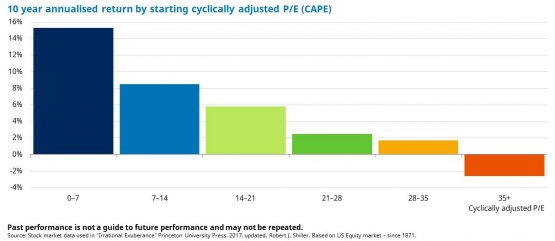 It removes all bias about the growth of a business, its subscriber base, its exposure to China, the size of its competitive moat, or how brilliant the management team is. It just says 'buy the cheapest companies and you will get the best returns'.
For anyone that paid a high price to invest in Amazon at the peak of the tech boom – when every stock was going to change the world – a world of pain lay in wait. From its high in December 1999 to its low in October 2001, investors lost 95% of their money. These investors didn't break even until 2009.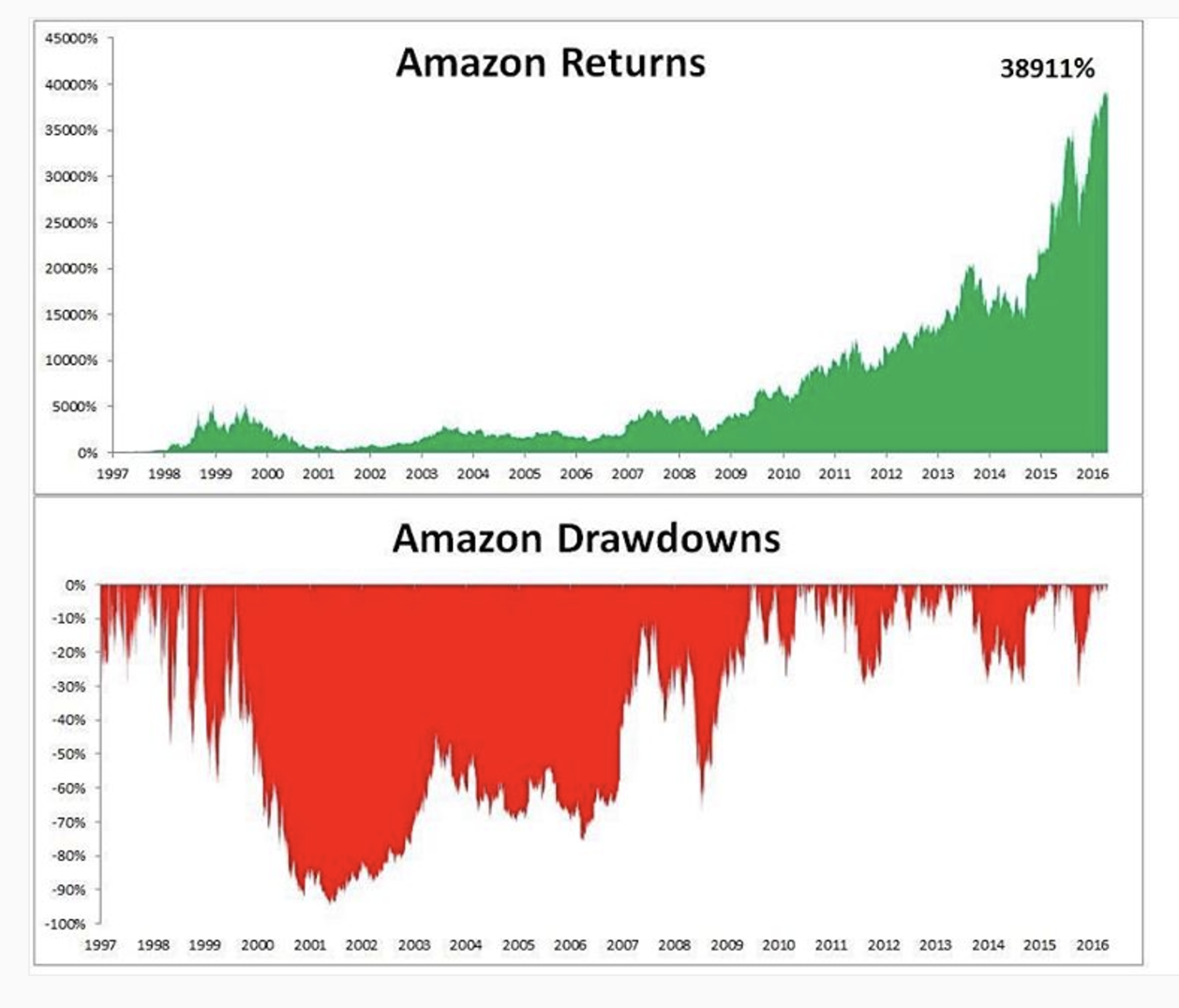 Source: theirrelevantinvestor.com/2017/01/04/looking-for-the-next-amazon/
This is hardly an isolated case. Cisco and Microsoft carry similar scars from the same period, and it took them years to recover. Both of them were great businesses, with amazing products, that changed the world, but were poor investments for many years. For every business that survived and ended up making money, there was a Pets.com, WorldCom or Boo.com that wiped out investor capital completely.

Fast-forward to 2019 – the year of the Unicorn IPO – and a familiar sentiment has appeared. People seem to be more interested in investing with hope and faith, and future growth and disruption is clearly sexier than a sustainable business with a margin of safety. This is where 'lottery ticket investing' in the next Amazon is more agreeable than looking at the odds.
Nowhere is this more evident than the IPOs being launched with companies with negative earnings.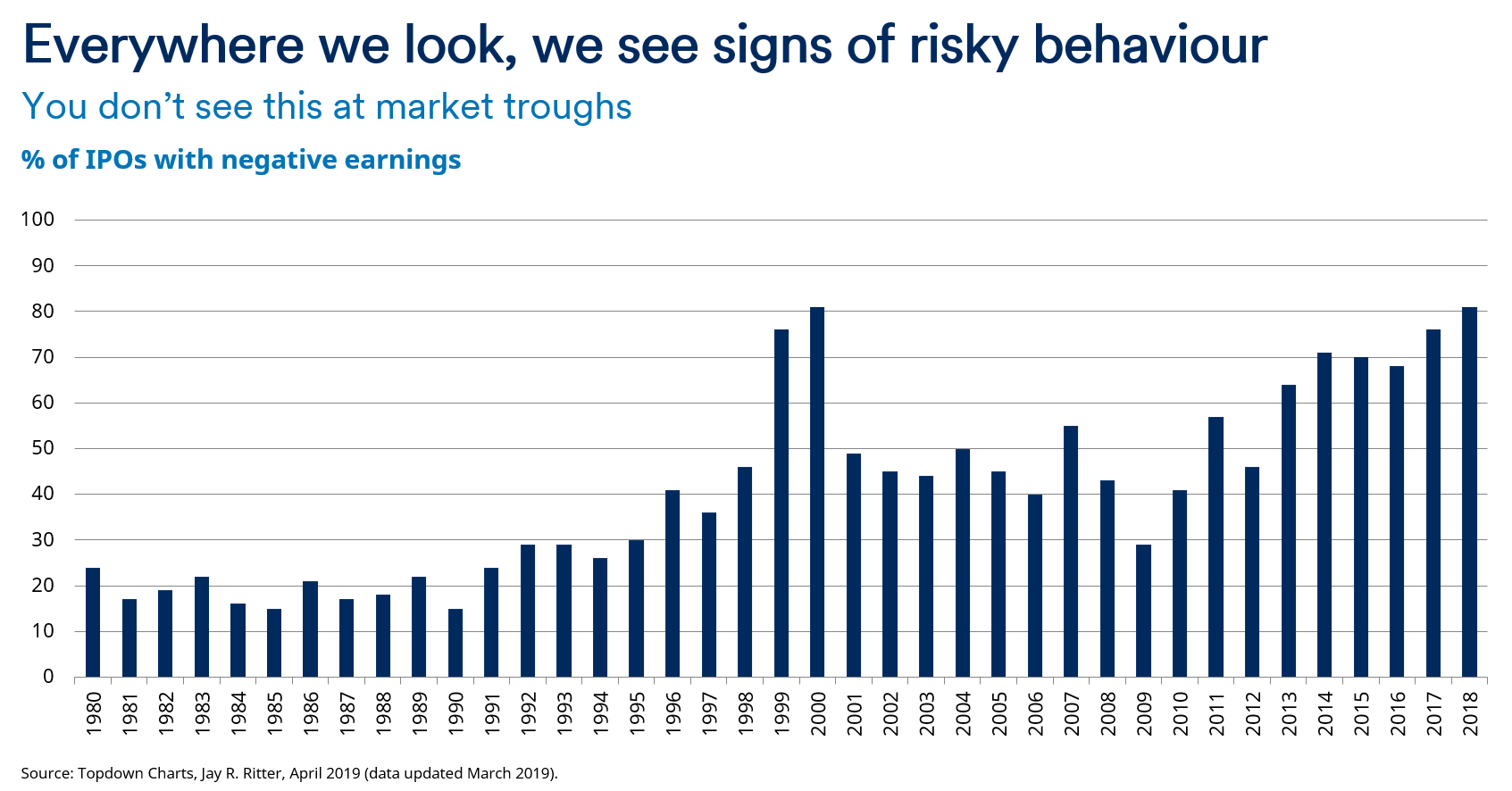 Of the total IPO market in 2018, more than 80% debuted with negative earnings – the highest level since 2000.

There is an important distinction to be made here. There is a difference between a company that chooses to make a loss, and one that isn't doing it by choice. It is uncertain if these loss-making IPOs can ever turn a profit with their current business model. It is always easy to add the market capitalisation in times of euphoria; however, people tend to forget how difficult it is to create sustainable profit.
And yet, because Amazon managed it, it seems like every company can become an amazing investment. Who cares about the balance sheet – it has potential growth!
Yes, Amazon managed to become an amazing investment. Facebook too. But not every business can change the world. Not every business can go from huge losses to exorbitant profits.
Running losses to grow revenues doesn't always lead to a great outcome. The price you pay matters. The company's balance sheet matters. The growth is just the narrative we weave to justify the price.
While markets are now as enthusiastic as they were in 2000 to pay for future hope – just one letter away, of course, from 'hype' – it is worth recalling one further fact from the top of the dotcom boom: by the end of 2000, nearly three-quarters of companies coming to market that year had seen their share price fall since their IPO.
This article was originally written by Avik Roy, Research Relationship Manager, Schroders.
Disclaimer:

Opinions, estimatesand projections in this article constitute the current judgement of the authoras of the date of this article. They donot necessarily reflect the opinions of Schroder Investment Management AustraliaLimited, ABN 22 000 443 274, AFS License 226473 ("Schroders") or anymember of the Schroders Group and are subject to change without notice. Inpreparing this document, we have relied upon and assumed, without independentverification, the accuracy and completeness of all information available frompublic sources or which was otherwise reviewed by us.
Schroders does notgive any warranty as to the accuracy, reliability or completeness ofinformation which is contained in this article. Except insofar as liabilityunder any statute cannot be excluded, Schroders and its directors, employees,consultants or any company in the Schroders Group do not accept any liability(whether arising in contract, in tort or negligence or otherwise) for any erroror omission in this article or for any resulting loss or damage (whetherdirect, indirect, consequential or otherwise) suffered by the recipient of thisarticle or any other person.
This document doesnot contain, and should not be relied on, as containing any investment,accounting, legal or tax advice. Past performance is not a reliable indicatorof future performance.
Learn more
Established in 1961, Schroders in Australia is a wholly owned subsidiary of UK-listed Schroders plc. Based in Sydney, the business manages assets for institutional and wholesale clients across Australian equities, fixed income and multi-asset and global equities.

Schroders believes in the potential to gain a competitive advantage from in-house global research; that rigorous research will translate into superior investment performance. We believe that internal analysis of investment securities and markets is paramount when identifying attractive investment opportunities. Proprietary research provides a key foundation of our investment process and our world-wide network of analysts is one of the most comprehensive research resources dedicated to funds management.

Areas of expertise:
• Australia equities
• Fixed income
• Multi-asset
• Global equities

Why Schroders?

With a global network of researchers, we focus on serving our clients and targeting one result - superior investment performance.

Inherent in our approach to investment management is:
• A structured, disciplined and repeatable investment process
• A clearly defined investment style
• A team approach to investment management

A global asset manager

• We have responsibility for A$803.1 billion of assets* on behalf of institutional and retail investors, from around the world. Their assets are invested across equities, fixed income and alternatives.

• We employ over 4700 people worldwide who operate from 41 offices in 30 different countries across Europe, the Americas, Asia and the Middle East.

• We are close to the markets in which we invest and our clients.

• Schroders has developed under stable ownership for over 200 years. Long-term thinking governs our approach to investing, building client relationships and growing our business.

*Source: All data as at 30 June 2018