In this infographic we review the economic events of 2018 including trade wars and Brexit, and discuss our forecasts for 2019.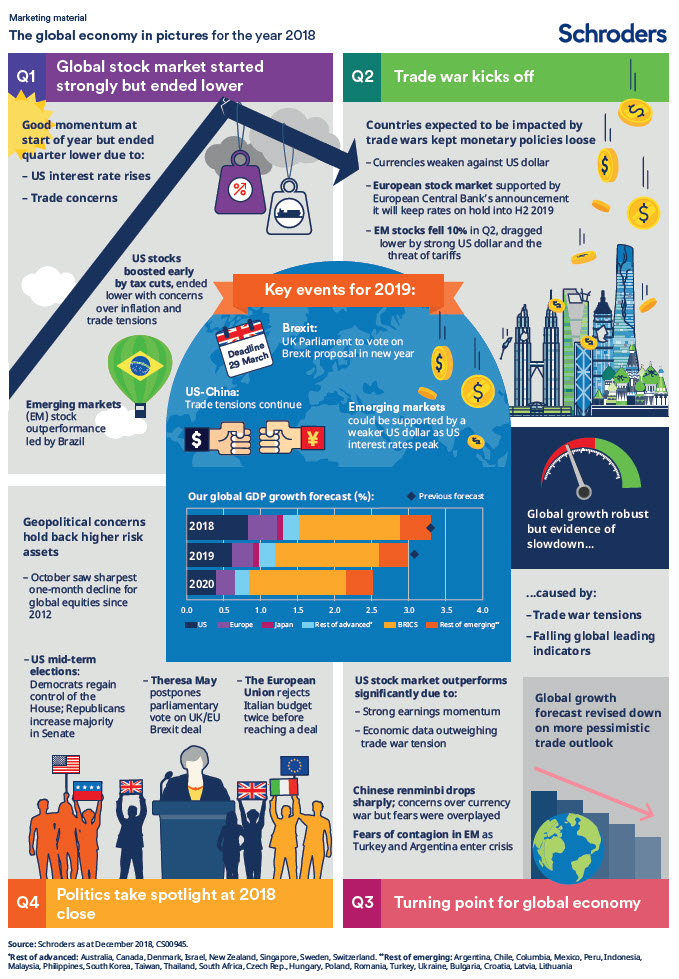 This content is issued by Schroder Investment Management Australia Limited (ABN 22 000 443 274, AFSL 226473) (Schroders).The information contained in this infographic is general information only and does not take into account your objectives, financial situation or needs. This infographic does not contain, and should not be relied on as containing any investment, accounting, legal or tax advice. Past performance is not a guide to future performance and may not be repeated. The value of investments and the income from them may go down as well as up and investors may not get back the amounts originally invested. Opinions constitute our judgement at the time of issue and are subject to change.

In preparing this infographic, we have relied upon and assumed, without independent verification, the accuracy and completeness of all information available from public sources or which was otherwise reviewed by us. Schroders does not give any warranty as to the accuracy, reliability or completeness of information which is contained in this material. Except insofar as liability under any statute cannot be excluded, Schroders and its directors, employees, consultants or any company in the Schroders Group do not accept any liability (whether arising in contract, in tort or negligence or otherwise) for any error or omission in this material or for any resulting loss or damage (whether direct, indirect, consequential or otherwise) suffered by the recipient of this material or any other person.
Learn more
Established in 1961, Schroders in Australia is a wholly owned subsidiary of UK-listed Schroders plc. Based in Sydney, the business manages assets for institutional and wholesale clients across Australian equities, fixed income and multi-asset and global equities.

Schroders believes in the potential to gain a competitive advantage from in-house global research; that rigorous research will translate into superior investment performance. We believe that internal analysis of investment securities and markets is paramount when identifying attractive investment opportunities. Proprietary research provides a key foundation of our investment process and our world-wide network of analysts is one of the most comprehensive research resources dedicated to funds management.

Areas of expertise:
• Australia equities
• Fixed income
• Multi-asset
• Global equities

Why Schroders?

With a global network of researchers, we focus on serving our clients and targeting one result - superior investment performance.

Inherent in our approach to investment management is:
• A structured, disciplined and repeatable investment process
• A clearly defined investment style
• A team approach to investment management

A global asset manager

• We have responsibility for A$803.1 billion of assets* on behalf of institutional and retail investors, from around the world. Their assets are invested across equities, fixed income and alternatives.

• We employ over 4700 people worldwide who operate from 41 offices in 30 different countries across Europe, the Americas, Asia and the Middle East.

• We are close to the markets in which we invest and our clients.

• Schroders has developed under stable ownership for over 200 years. Long-term thinking governs our approach to investing, building client relationships and growing our business.

*Source: All data as at 30 June 2018