Coronavirus brought a decade-long US bull market to a halt and sparked a sudden stock market collapse. We analyse the findings of the Schroders Global Investor Study to understand how Australian investors responded to market volatility compared to their global counterparts.
Faced by one of the biggest economic shocks in history, it is little surprise that the majority of investors around the world reacted by making changes to their portfolios. This trend was also observed in Australia with 62% of investors making changes to their portfolios during this time.
However, when looking at how many people stuck to their original plans, Australian investors were almost twice as likely to do so than their global counterparts.
The latest findings of Schroders' Global Investor Study, a landmark annual survey of more than 23,000 investors from around the world, indicated that 34% of Australian investors did not make any changes to their investment portfolio during market volatility in February and March, compared to 19% globally.
The survey, conducted across 32 worldwide locations between 30 April and 15 June 2020, surveyed respondents about their actions following a period of extreme market volatility. This arose as most of the world's major economies went into lockdown in an effort to limit the Covid-19 pandemic. Between mid-February and mid-March, world stock markets lost approximately one-third of their value*.
Almost 80% of respondents globally said they made some changes to their portfolio as a result. Interestingly, a small number - 3% globally and 4% in Australia - were unaware of the turmoil in markets, and so took no action.
Of the 78% worldwide who did change their holdings as the crisis unfolded, there was a stark divergence in their reaction. While 53% said they moved "some" or "a significant proportion" of their portfolio to lower-risk investments, 35% took contrary action, saying they moved "some" or "a significant proportion" to high-risk holdings.
However, Australian investors were more likely than their global counterparts to stick to their original plans, with 34% sticking with their original plan and not making any changes to their investment portfolio during this period.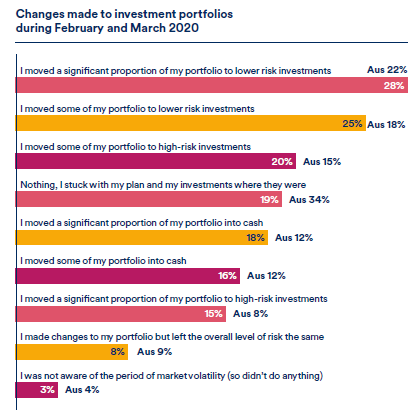 Source: Schroders Global Investor Study 2020
Staying the course: older investors less likely to make portfolio changes
Age or experience – or both – appear to be a factor in how investors respond to volatility. In Australia, Generation X (aged 38 – 50) were the most likely to alter their portfolios, with 78% of this group making changes to their risk profile.
The oldest cohort of investors, those aged 71 and above, were least likely to change tack with only 18% making changes to the level of risk in their portfolios.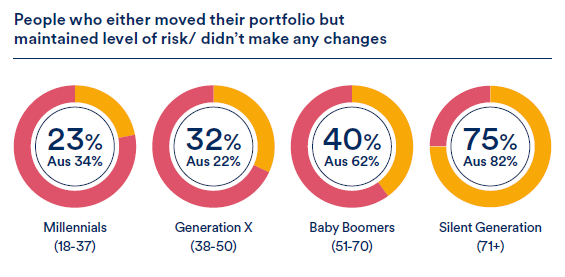 Source: Schroders Global Investor Study 2020
Differences between genders: male investors more likely to react to market volatility
When looking at investment behaviour between the sexes, the study found that during times of volatility, Australian women were more likely than Australian men to stick with their investment plans (38% vs 31% respectively).
The differences between genders in Australia did not end here. When asked how often they think about their investments, 36% of men stated they think about their investments at least once a week, compared with 27% of women. These figures increased significantly when asked how regularly they think about their investments since the coronavirus pandemic began, with 56% of men and 43% of women saying they think about their investments at least once a week.
Investors are broadly optimistic about the pandemic's negative economic impact
A majority of investors globally believe the economic effects of coronavirus will pass within two years, reflecting an optimism that's not in line with many countries' own official forecasts. This is consistent in Australia, with 38% of respondents stating they think the economic impacts will last between one-to-two years.
Investors' comparatively optimistic response could be due to their experience in the past decade of healthy stock market returns – even while the world economy faced significant challenges.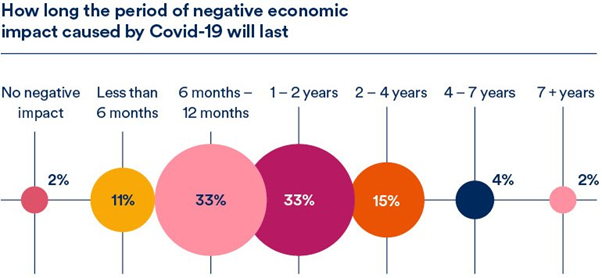 Source: Schroders Global Investor Study 2020. Please note: these figures are representative of the global sample.
Investment income: investors' hopes are "unrealistic"
One area where investors took a more negative view was that of the investment income they would expect to receive from their portfolios over the next 12 months.
Despite the recent market disruption, people are still over-optimistic although the average income from investments they expect to receive over the next 12 months is notably less than last year.
In 2019, Australian investors expected their holdings to deliver an 11% income. Following the Covid-19 crisis, this has dropped in 2020 to 7.14%.
Although the Australian expectation is lower than the 8.8% expected by global investors for the next 12 months, it is still unrealistically high. The natural yield of most investments – such as the dividends paid to shareholders, or interest paid to bondholders – is far lower than 8.8%. And one of the effects of the Covid-19 crisis has been to push these yields even lower.
Many companies have cut or cancelled dividend payments in the aftermath of the pandemic outbreak. Bond yields have also fallen, in part due to central banks cutting interest rates and committing to keeping them at low levels.
The role of cash after Covid-19 – who's holding it, and for what?
While 40% of Australian investors said they were moving a proportion of their portfolio into lower-risk investments, 24% said they had switched to cash.
This provides a valuable snapshot into investors' attitude to cash. Clearly, there are investors who view cash as a safe haven in times of crisis.
*MSCI World fell 34% between 12 February and 23 March. Source: Refinitiv
Important Information:
This material has been issued by Schroder Investment Management Australia Limited (ABN 22 000 443 274, AFSL 226473) (Schroders) for information purposes only. It is intended solely for professional investors and financial advisers and is not suitable for distribution to retail clients. The views and opinions contained herein are those of the authors as at the date of publication and are subject to change due to market and other conditions. Such views and opinions may not necessarily represent those expressed or reflected in other Schroders communications, strategies or funds. The information contained is general information only and does not take into account your objectives, financial situation or needs. Schroders does not give any warranty as to the accuracy, reliability or completeness of information which is contained in this material. Except insofar as liability under any statute cannot be excluded, Schroders and its directors, employees, consultants or any company in the Schroders Group do not accept any liability (whether arising in contract, in tort or negligence or otherwise) for any error or omission in this material or for any resulting loss or damage (whether direct, indirect, consequential or otherwise) suffered by the recipient of this material or any other person. This material is not intended to provide, and should not be relied on for, accounting, legal or tax advice. Any references to securities, sectors, regions and/or countries are for illustrative purposes only. You should note that past performance is not a reliable indicator of future performance. Schroders may record environments I have encountered. We had the coronavirus pandemic, we had economies shut down and monitor telephone calls for security, training and compliance purposes.
Learn more
Established in 1961, Schroders in Australia is a wholly owned subsidiary of UK-listed Schroders plc. Based in Sydney, the business manages assets for institutional and wholesale clients across Australian equities, fixed income and multi-asset and global equities.

Schroders believes in the potential to gain a competitive advantage from in-house global research; that rigorous research will translate into superior investment performance. We believe that internal analysis of investment securities and markets is paramount when identifying attractive investment opportunities. Proprietary research provides a key foundation of our investment process and our world-wide network of analysts is one of the most comprehensive research resources dedicated to funds management.

Areas of expertise:
• Australia equities
• Fixed income
• Multi-asset
• Global equities

Why Schroders?

With a global network of researchers, we focus on serving our clients and targeting one result - superior investment performance.

Inherent in our approach to investment management is:
• A structured, disciplined and repeatable investment process
• A clearly defined investment style
• A team approach to investment management

A global asset manager

• We have responsibility for A$803.1 billion of assets* on behalf of institutional and retail investors, from around the world. Their assets are invested across equities, fixed income and alternatives.

• We employ over 4700 people worldwide who operate from 41 offices in 30 different countries across Europe, the Americas, Asia and the Middle East.

• We are close to the markets in which we invest and our clients.

• Schroders has developed under stable ownership for over 200 years. Long-term thinking governs our approach to investing, building client relationships and growing our business.

*Source: All data as at 30 June 2018